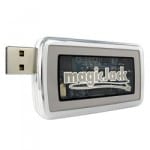 You may have seen the magicJack ads on TV that say you can get home phone service for $49 per year by using your computer's broadband Internet connection. If this sounded like a deal to you, you next wondered if it actually works the way they claim it does.
Overview
The industry for telephone service has gone through a lot of changes in the last 10 years. As more and more calls are made using cell phones and PC to PC calls, the need for a home phone has been drastically reduced. The folks at magicJack want to extend the life of the home phone for a little longer with their service.
The Claim
magicJack creates a new phone line by plugging a standard phone into magicJack and then plugging it into a computer with a broadband connection. There isn't much explanation as to where the magic is, since this is not a new technology and there's nothing clever or ingenious that's involved with using it.
The target market that they seem to be aiming at is those people that are still paying for home phone service and are amazed at being able to use your Internet connection to make a phone call. This seems like it would be a very small segment of the US population, but it is large enough to make the creators of magicJack a lot of money.
The Hype
The hype is that this is nothing new. magicJack is just VOIP technology, which has been around for several years. The idea of using your computer as a phone line may be nothing new, but offering at such a low price is what interests most consumers.
The Cost
The cost of magicJack is probably its biggest draw, and the reason so many people are interested in getting it. If you are used to paying a monthly phone bill, magicJack will seem like a bargain at just $39.95 a year. If you're paying that much per month for regular phone service, it is quite a bargain.
The Commitment
There isn't much involved in using magicJack. You just have to install the software on your computer, and insert the gadget into an available USB port on your computer. Some complaints have come in that it is too hard to uninstall the software once it's on your computer, but as long as it's not doing anything malicious to your computer there shouldn't be much harm in leaving it on there, even if you're not using it.
Evaluation
It's been getting good reviews and has been evaluated by some pretty trustworthy companies like PC Magazine and Consumer Reports. Since it's an annual fee you won't have to worry about your credit card being auto-billed every month for a service you're not using.
Does magicJack Really Work the Way it Says it Does?
It's not very hard to imagine that magicJack works as advertised. They aren't re-inventing the wheel, they've just put it in a nice little package, and used a good marketing strategy to bring it to consumer's attention. They've also gone the annual fee route rather than charging monthly and this would appeal to many people who are already paying for a high-speed Internet connection.
Our Recommendation
There are plenty of ways to make free and cheap calls using the Internet. Skype will let you make calls to other Skype users anywhere in the world, and Gmail lets you make calls to any number in the US and Canada right from your email inbox.
It doesn't make sense to still be having a home phone bill, and the act of paying for home phone service seems a bit archaic. In addition, most cellular phones are able to call numbers all across the country so this should eliminate the need for a separate home and cell phone bill, or the need for a long-distance carrier.
If you like the feel of using a regular phone instead of a headset at your computer, it may be worth it to get magicJack, but for the extra cost involved this would be an option only for those that really want it.
Official Website: MagicJack
What do you think? Does magicJack really work?