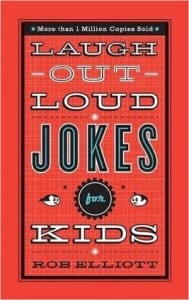 Sometimes it is good to give the kids something to do besides play with their iPhone or video games, and this simple book may be just the thing.
Overview
Laugh Out Loud Jokes for Kids is no fancy publication and its rather simple in its paperback form, but you may be surprised at just how cherished it becomes by the kid you give it to. It is a simple to read book loaded with good clean hilarious jokes that will make the reader the center of attention when they learn them and pass them on.
The Claim
The promoters claim that the book is easy to read and follow and is loaded with really one line jokes. This easy to read type of material makes it more appealing to the kids.
The Hype
Anything that is inexpensive and is something that the kids are going to use more than once rather than stuffing it away is a good thing. All indicators are that the Laugh Out Loud Jokes for Kids is bound to be a real kid pleaser.
The Cost
If you are going to buy the Kindle version you will pay $2.78 and for the Ereader version you will pay $2.67.
The Commitment
If your child is not comedy minded then at first you may need to set the example by reading a few of the jokes that the Laugh Out Loud Jokes for Kids contains. They are surely going to bring a smile to their faces and chances are you will get some real belly laughs. After reaching this point you won't have any trouble getting the youngster to read and repeat the jokes there.
Evaluation
Anything that is going to put a smile on a person's face no matter what their age then we are impressed with it. There are a couple of things that we like about the Laugh Out Loud Jokes for Kids. First it is another form of entertainment that is not so technology based which puts a good mix in the child's life. Then it encourages them to read even if it is one liners. Then we feel that by getting some attention through their joke telling that it helps to build their confidence.
Final Laugh Out Loud Jokes for Kids Review
As you can probably tell we are going to give the Laugh Out Loud Jokes for Kids a Thumbs Up rating. There is no way that you can find such great entertainment at a cheaper price. We like everything that the book does, and we believe it is a product of interest especially since it is a best seller on Amazon.
Our Recommendation
Encouraging the kids to interact socially like this Laugh Out Loud Jokes for Kids does is really a positive thing. It is something they can share with both kids and adults alike. Something else that a lot of the kids like to do as well is magic tricks. Check out what we had to say about Magic Tricks.
What do you think? Does Laugh Out Loud Jokes for Kids work or not?