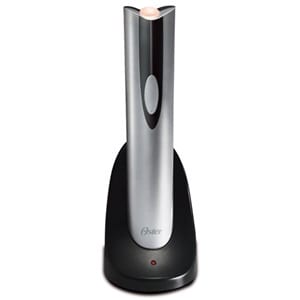 We are into the season of entertaining and gift buying and if you still need a few last things to pick up for either of these, then maybe the Oster Electric Wine Bottle Opener will help.
Overview
The Oster Electric Wine Bottle Opener is exactly what the name implies. It is a simple way to open up wine bottles. If maybe you are thinking this is a silly idea then perhaps you have never struggled with opening a bottle of wine in the past. Apparently a lot of people have though,  as this is a best seller on Amazon.
The Claim
The company claims this is an easy to use cordless item that can open up 30 bottles of wine on a single charge. It even has a foil cutter so you don't have to fiddle with this segment of the wine bottle.
The Hype
For anyone that has a bar this is really a great addition to it. It is really sleek looking and doesn't take up a lot of room. While experienced wine drinkers are pretty good at mastering the opening of a bottle of wine, there are lot that really have some problems with some of the wine brands.
The Cost
The Oster Electric Wine Bottle Opener is not expensive and is currently being offered on Amazon for $19.99. While you may not get it in time for Christmas if you are having a New Year's party maybe you can get it by then. Also if you have some on your gift giving list that you won't be seeing by Christmas then maybe you could order one in time to arrive before you have to give them a gift.
The Commitment
There won't be much of a commitment that is needed other than reading the simple directions then setting it up on your bar. It is a nice enough looking item that you won't want to hide it away in a cupboard.
Evaluation
Buying bar accessories either for yourself or someone else always help to complete the purpose of the bar. This Oster Electric Wine Bottle Opener can certainly do that.
Final Oster Electric Wine Bottle Opener Review
We are going to give the Oster Electric Wine Bottle Opener a Thumbs up Rating. We are doing so because in general it is a popular item. We like the positive reviews it is getting. Plus, we think that it is a useful item and really would make a great gift that is affordable at any time of the year. We did talk about a similar product in the past called the Cork Lifter but so far it hasn't generated a lot of interest.
Our Recommendation
If you are going to buy the Oster Electric Wine Bottle Opener do so with the intention of really putting it to good use and not just as something to take up space on your bar. It really does make wine bottle opening easy and lets you get down to the ultimate goal of enjoying whats in the bottle.
What do you think? Does the Oster Electric Wine Bottle Opener work or not?