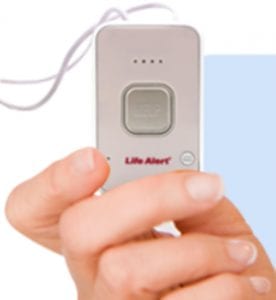 Most everyone is concerned about their home and personal security and when it comes to seniors they need to be extra cautious. This is where Life Alert may be something they want to rely on.
Overview
Life alert is a system that can be used by an individual when they are in need of summoning help because they are in need of emergency services. It is a pendant that the user wears around their neck so they have constant access to it. There is also a phone feature that they can get that they can use for when they are away from home.
The Claim
The company claims that the Life alert system is good for medical emergencies or for emergencies such as fire or carbon monoxide poisoning. They claim it is easy to use and they can even use it if there is a home intrusion. Once they push the button on the Life Alert pendant an individual will respond to identify the type of emergency then will notify the proper emergency responders.
The Hype
The company focuses on all of the potential emergencies an individual may come up against. They say the pendant is really easy to use which is a plus with most people as they don't want a complicated system. They also point out that the GPS can easily track where the call is coming from so it addresses the possibility of someone going unconscious and not being able to indicate their location.
The Cost
The cost is a monthly one and is around $50 a month for a landline and $60 for a cellular model, however prices are likely to constantly change so you will need to check out what the current ones are.
The Commitment
Whoever is going to be wearing this will simply have to remember to keep the pendant with them. Learning it is not difficult but they will have to remember that it is battery operated, however it seems as those these are good for ten years. Testing the unit periodically would be a good idea.
Evaluation
We like the concept behind the Life Alert and it is not just for seniors. It is applicable to any individual that lives alone, has a health problem, is disabled or a senior. It is also a good item to have in the mobile form for individuals that are out alone at night.
Final Life Alert Review
We are going to give the Life Alert system a Thumbs Up rating. It is one of the more well known programs available and has been around for quite some time. There are other makes available with some of them having additional features like being able to detect when an individual falls. There are also variations in contracts.
Our Recommendation
We suggest that before making a purchase as important as this that you do some comparison shopping first. This way you will get to learn what the various features are of the different makes and models. For example, you will learn that they vary in range which may be an important feature to you. We haven't looked at a lot of different devices for reviewing of this nature but we looked at another security device in regards to children like the Amber Alert Child Safety System which you may find interesting if you have children.
What do you think? Does Life Alert work or not?