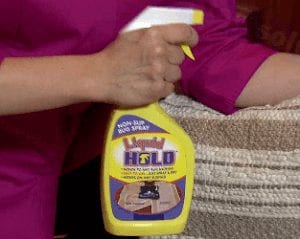 Most people like to use small mats and carpets throughout their home, but often there can be the danger of someone slipping on them. Perhaps Liquid Hold will help to solve this problem.
Overview
Liquid Hold is a spray on solution that you can apply to your rugs and mats to help prevent them from slipping and sliding.
The Claim
The Company claims that this product can be used on any type of carpet backing. it is supposed to dry clear and doesn't create any sticky residue.
The Hype
There are a lot of small rugs and carpets that come with a rubber backing to help them stop the rug from slipping. The problem with these is that when they become wet sometimes this backing comes off and sticks the floor. It can be really difficult to remove and could damage the finish of the floor. With the Liquid Hold this is not supposed to be a problem. This is probably the most significant hype that is put forth for the product.
The Cost
You can expect to pay just $10. for the Liquid Hold itself, but the shipping itself is going to cost you close to this at $9.95. However, the company is saying that if you want to add another $9.95 for shipping and handling they will send you a second bottle of the Liquid Hold for free. So if you were to take them up on this offer you would be paying $29.90.
The Commitment
You are going to have to go to the work to make sure you spray the rug properly that you are going to use the Liquid Hold on. They say that its machine washable. By this they most likely mean that you can remove the product from the mat or carpet if you wash it in your machine. This would mean that following this you would have to treat the carpet again.
Evaluation
The concept behind the product is certainly a good one. There is no doubt that small carpets and rugs can be a real problem if they don't stay in place. Anyone can easily slip on one of these and possibly get a serious injury. Normally people will try and buy the non skid carpets which have that special backing on them. Or they will fasten them down with carpet tape which can be time consuming and doesn't always work that well.
Final Liquid Hold Review
We are going to give the product a Try/Buy Rating. It seems unusual that the shipping price is almost as much as the product itself. When you combine the total cost of almost $30. but you get two bottles then averaging out the cost at about $15. a bottle is not unreasonable if the product lives up to its word. There just isn't enough feed back yet as to the performance of the product as it is new. The promo site for Liquid Hold is pretty scarce in its details and layout.
Our Recommendation
If you have a solution now in place for making your carpets and mats non skid then you really don't need to look for an alternative. If you do have some problem carpets however, then you may want to consider giving the Liquid Hold a try. One of the other complaints that comes with small area carpets is they are difficult to vacuum. Apparently the Liquid Hold is supposed to be so strong that it will hold these small mats in place even when being subjected to this type of heavy cleaning.
What do you think? Does Liquid Hold work or not?