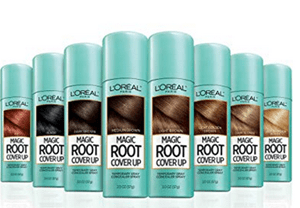 It can be quite a task to try and keep up with the maintenance of one's hair colour when they have chosen to use hair colouring. It is great when it is first done, but hair grows fast and it's not long before the roots begin to show. Then it means taking the time to colour these as well. There may be a quick solution for doing this and it is Magic Root Cover Up.
Overview
Magic Root Cover Up is a simple spray on product that gets applied just to the roots of the hair that need colouring. It is a product that is made by L'Oréal Paris so it has some credibility when it comes to brand behind it.
The Claim
According to the promoters of Magic Root Cover Up they are claiming its three seconds to achieving flawless roots. It apparently creates a light application to the hair so there is no sticky residue once it dries. It is also suitable for all hair types no matter what the texture is. One bottle of Magic Root Cover Up is enough to do forty applications.
The Hype
The hype around Magic Root Cover Up is how fast it can be applied. Anyone that colours their hair and has do the roots in the traditional fashion knows how much of a hassle it can be to colour the roots and time consuming.
The Cost
The cost of Magic Root Cover Up is $11.47 depending on where you buy it. It can be bought on Amazon but also in any store that carries the L'Oréal products.
The Commitment
Even though the Magic Root Cover Up is fast to apply there is a commitment that is going to come with in. The cover up only lasts up until the next shampoo. This is a bit of a downside for those who shower every day and wash their hair when doing so. The alternative is to wear a shower cap when a shampoo really isn't needed. Otherwise it means having to use the Magic Root Cover Up every day.
Evaluation
The first step will be picking out the shade of Magic Root Cover Up that is closest to your hair colour. There are seven shades to choose from. If you have used an L'Oréal hair colouring to begin with then it will be an easier task to choose the closest colour. Each colour apparently blends in quite nicely with the variations of its shade. To apply the Magic Root Cover Up you just spray along the part and where the roots are visible.
Final Magic Root Cover Up Review
Magic Root Cover Up has a lot of good feedback. Out of 538 users of the product they have given it a four star rating. Some of the complaints that have arisen are that some find they get too much product on one area. But like anything it is going to take some practice to use the product in the most effective way. There are clear instructions that come with the product for its application. Another complaint was that at least one found that she couldn't touch her hair without staining her fingers. It is possible that too much of the product was used. But others have had the same complaint. Others complaint that it colours the scalp. Still with the majority of feedback being so positive we are prepared to give Magic Root Cover Up thumbs up.
Our Recommendation
For those that are looking for an alternative to cover up gray roots they may want to take a look at Gray Away.
What do you think? Does Magic Root Cover Up work or not?