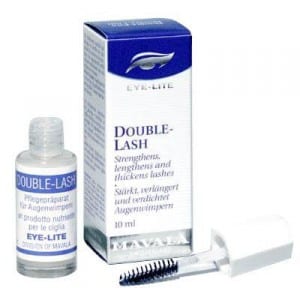 Mavala Double-Lash is an eyelash enhancing product created by Switzerland's renowned cosmetic group, Mavala. This company has been around for years providing top quality aesthetic goods for women around the world. They started out with body care merchandise and make-up, but have since then opened their new Eye-Lite line of eye care products which includes one of their most popular items. Tons of women swear by it, so we took it upon ourselves to see what all this ruckus was about.
Overview
Maintaining an attractive appearance is on top of everybody's list, especially for women. The eyes are considered to be the most notable part of a person's body therefore women will do anything in order for their eyes to display how youthful and sexy they really are. A lot of women, however, were not blessed with gorgeous lashes and have to make the most of what they have. Fake eyelashes, mascara, and even cosmetic surgery — you name it, the majority of women have tried it all.
The Claim
They say that this is a revolutionary product that stimulates the growth of lashes making them longer and thicker after just 3 weeks of continuous use. Not only will the product strengthen your eyelashes, but because of the unique nutritive ingredients found in it, it will also protect your lashes and prevent it from breaking or falling out. If this were any other company these claims might cause you to roll your eyes, but with such a proven track record, you have to wonder if they're being straight up.
The Cost
Mavala Double-Lash comes in a 10ml bottle which sells for $30. You won't be able to purchase the product directly from Mavala's website, so you'll have to look for it at other websites. Luckily, Amazon carries the product and for a lot less too with a price tag of around $20.
The Commitment
Beauty enhancing products like this one don't perform magic. It's exactly what it states it is — an enhancing product. Therefore if you want to see results, you will have to wait several weeks. In this case, they claim you'll see results after a wait of 3 weeks. Waiting isn't the hard part though. Remembering to apply the product everyday can be your biggest issue. In order to get the results, this has to be applied every night before bedtime. Any make-up worn during the day must be removed before applying the product.
Evaluation
Compared to other cosmetic products that are outrageously over-priced, this is relatively affordable and this is what most consumers appreciated about the product. A usual tube or bottle of an eyelash enhancing product can range anywhere from $50 to $150, but a bottle of it is yours for only twenty bucks. You know the saying though, "Good things don't come cheap." But this is one product that is apparently breaking the mold.
The responses from women who've tried Mavala Double-Lash were positive. Many of them have actually been using the eyelash enhancer for more than a year because of the noticeable changes in the thickness and length of their lashes. Although the company did say that the product would take effect after 3 weeks, many of the consumers only recognized slight changes after 4 to 5 weeks and some even had to wait a little bit longer. You wouldn't call it disappointing because you'll still be able to obtain longer and thicker lashes, however the timeframe given is a little deceiving. So it's best to just keep an open mind and an optimistic mindset and not give up too soon when starting out on it.
What People Are Saying
Those who weren't so lucky did praise it for conditioning their eyelashes. Though these women didn't exactly get thicker or lengthier lashes, they exclaimed how much stronger their lashes have become. As a result, they noticed that their lashes were falling out less and less. It's rare for a product to get positive reviews, even from people that didn't exactly get the results they expected.
What also comes as another surprise is the small amount of complaints consumers submitted. There were hardly any consumers who experienced significant side effects. One of the only reported side effects consumers experienced were their lashes thinning and falling out. Keep in mind, most eyelash enhancing products may cause your eyelashes to fall out, but only to make room for the new and healthier lashes to come in.
Final Mavala Double-Lash Review
Mavala Double-Lash is worth its price and gets our Thumbs Up review due to so much positive feedback from actual users. With so many women who firmly stand behind this product as well as the company, it's hard to not want to try it. At this price point it is one of the best-reviewed products in its class. If you're looking for an affordable product to make your lashes fuller, then look no further.

What do you think? Does Mavala Double-Lash work or not?