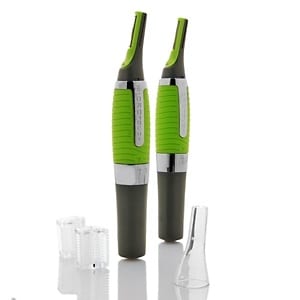 Micro Touch Max swears that it is the answer to all your personal grooming needs. If you got unsightly back and neck hair you can trim it as close as a blade, so they say. But as it turns out they say a lot of things about this product that just don't happen when you get it home. We've got the scoop on whether or not you should put your money down on this all-in-one hair trimmer.
Overview
Keeping properly groomed is an ongoing battle for most guys, especially if they've got the genes that make them hairy all over. It can be hard enough keeping up with the hair on the back of your neck between haircuts, but when you also have to battle back hair, chest hair, and nose hair, things can get a little out of hand. When you see a product like the Micro Touch Max, it can be very tempting to think that all of your hair trimming woes will soon be over.
The Claim
Micro Touch Max claims that you can easily keep your body groomed of any unwanted hair without using an awkward tool like your clippers, or a razor or scissors. They say that it provides precision grooming, but is safe to the touch so you don't have to worry about cutting yourself. They say it is great for getting places like the unibrow, or the neckline on the back of your head. They also say that it's powerful enough to get through the tough stuff.
The Hype
All of the hype needed for this product comes from the infomercial. They make it look like the best thing since sliced bread, and many people probably end up ordering without checking to see if it actually works first. That's what happened to us when we saw the commercial on TV for the first time.
The Cost
Micro Touch Max comes to around $30 for the whole kit including shipping and handling, which includes a 10 piece grooming kit along with the unit itself.
The Commitment
Compared to your usual grooming methods, this should be a timesaver for you. However, that would only be the case if the product worked the way it is shown to and got you the results that it promises. From our experience it actually took longer to use this product than the methods we were currently using at the time, and since we never came close to getting the results that we wanted it actually didn't save us any time at all.
Evaluation
We reviewed a previous incarnation of the Micro Touch Max, and unless they've drastically upgraded this model we can say that it doesn't work the way it is depicted to in the infomercial. It is a fantastically designed commercial, but the product itself is not very impressive. It doesn't seem to generate enough power from the ordinary battery that you place inside it. When using it hairs would get stuck in it because it wasn't running at a high enough speed. It also doesn't provide the level of closeness that they make it seem it has in the advertisement
We found that it was in fact not powerful enough to get through the tough hair, like back hair, and not precision enough to get the fine hair like ear hairs and nose hair. Overall it was a total flop, and it only ended up getting used a few times and then tossed in the bathroom drawer and forgotten about. The best fix is to use the right tool for the right job, and not look for an all-in-one trimmer like this. For example, there are specially designed nose hair trimmers that do the job 100 times better than this does. For the same price as this you can get a powerful beard and mustache trimmer that can do a better job on your neckline and can get your sideburns looking perfect, as well as plow through your back hair.
The only thing we can tell it they changed from the old model to the new model is adding an LED light to it. All this will do is shed light on how bad of a job the product does. What they need to do is give it a proper lithium-ion battery that is rechargeable and more powerful so the product can actually work the way it is depicted to.
Final Micro Touch Max Review
Micro Touch Max didn't live up to our expectations at all. The bonus grooming kit that you get with it is not something that should sway your decision to buy it or not, and is just a way for them to pad your order total. It does not get as close as a blade, so this is a false statement made by them in their ad. If you try to shave your hairy chest like they show, you will likely spend all day doing so, tugging at them just as much as you're cutting them, and end up with a half hairy chest.
Our Recommendation
We recommend going with an assortment of different products all custom built for a specific job. You don't want to use the same tool to trim your nose hairs that you do to trim your back. It is two different jobs requiring two different tools. Proper grooming is important, but don't be fooled by this product, and seek out better solutions.
What do you think? Does Micro Touch Max work or not?