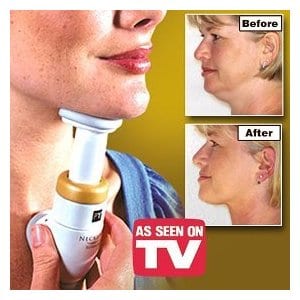 The Neckline Slimmer looks odd when you first see it in action, but the buzz surrounding it is cause to give it a second glance. If you buy into the back story it is a device created by Paul Younane, whom they claim is a world-renowned physiotherapist. There is probably a long line of baby boomers ready to buy this if they just get the go-ahead that it actually does work. We're here to render our verdict on this neck firmer.
Overview
The neck is one area that seems to sneak up on people as far as the aging process goes. The changes come on so gradually that you don't really notice it happening until you have the dreaded turkey gizzard, a double chin, or a combination of both. By the time you notice the problem, it's probably already at the point where you think it's just something you'll have to live with for the rest of your life. After all, what can you really do to turn back the clock? It's not like there's an exercise you can do at the gym, or a pill that you can take that will turn things around.
The Claim
The PY Neckline Slimmer says that you won't have any more loose or hanging skin around your neck, that you won't have any more double chins or neck folds, that the procedure is completely painless, and that you won't have to resort to getting expensive surgery done to rectify the problem.
Another feature that they boast is that you don't have to use this rigorously, in fact it only takes 2 minutes a day to see the results they claim. We like that they don't go over the top with their claims, and they have a pretty low-key website that basically shows people using the product, and shows before and after pictures of what you might be able to expect with repeated and extended use.
The Hype
This product is generating a bit of a buzz due to all of the people saying that it works well, even though it might seem a little funny when you start using it the first time. However, due to word-of-mouth advertising it is steadily increasing in popularity.
The Cost
We like that the Neckline Slimmer doesn't take advantage of you on the price. It's at that favorite as seen on TV price of $19.99 but don't forget to add in the shipping and handling so it comes to a little under $30.
The Commitment
One thing that users have agreed upon is that you have to give this enough time to work. The manufacturer suggests a two-week window in which you reserve your judgment. However, the best results will come over an extended period of time, so you should commit to using this for just aa few minutes on a daily basis. If you think about it, it's taken you a lifetime to end up with this condition, so it's the least you can do to give it a month or two of daily use before making up your mind on whether or not it is making a difference. In order to really see the results, you should take your own before picture, as the memory can play tricks on you, and you might forget just how bad things were at the beginning.
Evaluation
Neckline Slimmer gets overwhelmingly positive feedback from those who have tried it and seen results. Of course it does have a few people that said it didn't work, but which product doesn't? There are people out there that give the thumbs down to just about everything, it's just the way they are. In this instance the number of negative reviews is almost statistically insignificant, and are dwarfed by the number of people that have said that it works, works well, and works better than they thought it would.
There are plenty of things that we like about the Neckline Slimmer, and one of them is the fact that they give you all three springs in one package. Some companies out there would be tempted to make you upgrade your order in order to get all three levels. But this lets you start off at a basic level and as the muscles in your neck get conditioned, you can replace the spring so that you can continue the tightening process.
You'll be surprised at how many compliments and nice things people say about you just from having a slimmer looking neck. Keeping everything else about your body the same, you'll have people asking you if you've lost weight. This is because the face and head area is the first thing people see, and for many of us it's an area that holds a lot of weight. By getting results in this high profile area, the positive factor trickles down to the rest of your body.
Final Neckline Slimmer Review
The Neckline Slimmer is getting our nod of approval based on the price, and the loads of positive reviews it's gotten from actual users. It only seems logical that by strengthening the muscles in your neck, you'll be working to tighten that area specifically and improve the look of it pretty quickly. It also makes sense that the reason the neck falls into such disrepair is that it has been neglected for so long.
Our Recommendation
IF you've been struggling with this part of your body, it is recommended to give the Neckline Slimmer a try. It is really hard to spot treat this area using any other method. Overall weight loss simply takes too long, and may never get you the kind of results that you're seeking, especially if you're trying to battle the infamous turkey gizzard.
What do you think? Does Neckline Slimmer work or not?