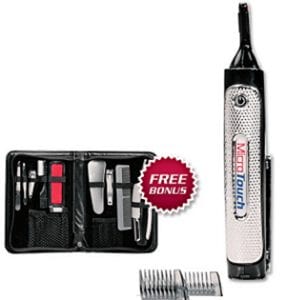 There are so many great gadgets on the market for women, that we thought that we would talk about one that is geared towards men for a change, and that is the Micro Touch Pocket Barber.
Overview
The Micro Touch Pocket Barber allows you to do all those extra hair trims that you normally would have done at your barber's. It used to be that these extras were included with your hair cut but now in most places you have to pay for these extra services, and the cost can sure add up.
The Claim
The promoters of Micro Touch Pocket Barber claims this product is good for beard and mustache trims, side burn trimming, removing nose hairs, and even removing unwanted body hair. Plus it can be used for trimming up the hair.
The Hype
When it comes to hair removal for men they want something that is gentle, that is going to cause the least amount of discomfort as possible, yet tough enough to get the job done. This is what the hype for the Micro Touch Pocket Barber focuses on.
The Cost
For 19.99 plus $7.99 shipping and handling you will get the Micro Touch Barber plus they will throw in the deluxe precision grooming kit for free. This product is a 2 in 1 trimmer that comes with 2 precision snap on guides. The grooming kit is a collection of small tools like nail clippers and a comb along with some other items, in a neat carry case.
The Commitment
The Micro Touch Pocket Barber is cordless and compact, but you are going to have to practice with it a little if you want to use it for all that it says it can be used for.
Evaluation
Even though it seems to be a fairly new product it has already hit the market at Amazon and has gathered about 51 reviews which has awarded a 3 star rating out of 5. The positives are that it works great for the small hair areas like the nose and ears, but the downside according to the complaints is that it is of poor quality and the motor isn't all that great.
Final Micro Touch Pocket Barber Review
At the very best we are going to give the Micro Touch Pocket Barber a Try/buy. The concept and intended purpose of the trimmer is a great idea. There are many other products on the market that do the individual jobs that this product does in all. The problem is it seems to be the quality. It doesn't matter that the concept is a great idea, if the product doesn't last or is of poor quality it doesn't matter how inexpensive it is, you are not going to get any value.
Our Recommendation
We reviewed a similar product called the Micro Touch Switchblade. It is more expensive and comes with different marketing tactics. The reviews we have received on this are split with there being a few more against than for it. There are a lot of similarities between the products, and it makes one wonder if the makers of the product are just re-introducing it with a few improvements. If this is the case it would seem that it may still be lacking in some needed improvements.
What do you think? Does the Micro Touch Pocket Barber work or not?