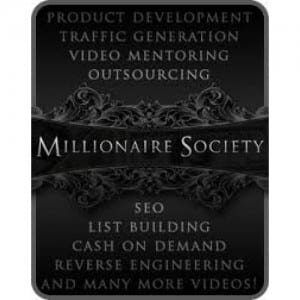 The Millionaire Society sounds like a group of guys sitting in leather chairs and smoking stogies. It's not nice to think that there are secret societies out there of wealthy individuals, all plotting to take over the world and keep the small guys down. But that's not what this system is about. This is just a traffic generating program that is designed to show you how to bring traffic to your website, and hence more money as well.
Overview
While it is true that all else being equal more traffic to your website should mean more money in your pocket. There are a few things to keep in mind that will make this statement not so true. First you have to look at the quality of the traffic that you are bringing to your site. If it is low quality traffic it won't matter how much of it you get, they won't be interested in your site and will exit stage right. Also, if you're not able to convert that traffic, it doesn't matter how long they stay, if they don't click on ads or buy what you're selling, you're sunk.
The Claim
Millionaire Society claims that they can show you how to go from getting no traffic to getting more traffic than you can handle. They say they can get you to go from zero to over half a million people visiting your site in just a week. They also say that you can send them to any page you want, including your own site, blog, landing page, or even Facebook page.
The say the traffic is targeted and responsive. They say you don't have to blog, you don't have to pay for clicks, and you don't have to do any marketing involving Twitter, YouTube, or Facebook. They also claim that their training happens live. They even make the bold statement that you should not sign up with them if you're not ready for a flood of traffic to your site.
The Hype
The hype is that it is a traffic system, and traffic is a buzzword commonly used in the industry because lots of people have trouble getting any. Traffic is always a hot topic because if you don't have it, you want it, and if you have it, you want more of it.
The Cost
The cost is $37 per month. It's sold through ClickBank so you don't have to worry about getting scammed out of your money. If you don't like it you just ask for your money back, no muss, no fuss. Tip: You can get it for just $27 if you try to click away from the site, you'll get a popup window enticing you to stay. If you stay, you can get a $10 discount, which applies to the monthly rate as well.
The Commitment
Other than making the monthly payment, you have to commit to learning their system and putting it into action so that you can see if it even works or not. Most people buy these sort of programs, read through them or watch the videos, and then just imagine whether it would work or not, without taking step one on putting it into motion. It's a lot more convincing to see it work or flop by actually trying it out. That way you really can put it to bed if it doesn't work, and you won't have any lingering thoughts that start with "If only I'd…"
Evaluation
They touch on the fact that the Internet and the industry is changing so much each day that several of the programs out there are outdated. This is a way to get them to justify the monthly expense, so you can stay up to date with the latest changes and updates of their system. There is just no way for someone to guarantee that they will be able to show you how to make the same sort of traffic they do. Even though he logs into his Google Analytics account, and "proves" that he actually does get traffic, this doesn't mean a hill of beans if you can't get it to work on your own sites.
The reason traffic system sell so well is the intense desire website owners have for their sites to get traffic. It's like the Holy Grail, the "If you build it they will come." promise that drives most website owners to make a website in the first place. Don't get lured into a traffic program because
Final Millionaire Society Review
Traffic is great, there's no doubt about it, but Millionaire Society traffic system doesn't have us convinced that you will make more money from the traffic that they show you how to generate. Just because one person was able to generate a storm of traffic to their own website is no guarantee that they can show you how to do the same thing, because you are not them. There are too many unknown variables, but the fact of the matter is that these processes are usually not able to be replicated.
Our Recommendation
You can try it out for the first month, but resolve yourself to actually do what it says so that you can gauge the results and decide if you want to stay on. You have 60 days to determine whether you want to stay with it, but you should really make up your mind in the first 30 days so you can cancel the recurring payment if you don't want to stay on.
What do you think? Does Millionaire Society work or not?