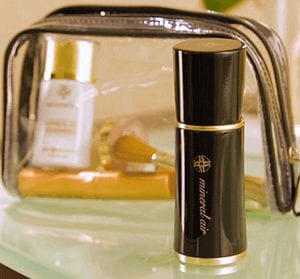 If you are looking for the latest way of applying makeup then you are going to be intrigued with Mineral Air, which is a version of air brushing.
Overview
Mineral Air is a neat compact air brush type unit that you can use at home for makeup application.This is used for the application of foundation. However, it appears as though you have to use a special blend of foundation that is sold with the unit.
The Claim
The company claims that it is quick and easy to apply the makeup with this Mineral Air airbrush system. They say it works great for covering up blemishes and imperfections. They also say that it works well for those that have sensitive skin.
The Hype
The unit is compact and cordless so it is easy to carry around with you or makes it convenient to use at home. They indicate that it performs beautifully and gives nice even coverage of the foundation.
The Cost
At first glance it may seem inexpensive but look carefully because you are required to make four payments of $59.95 plus $14.95. for the shipping and handling. With your order though, you are going to receive 4 months worth of makeup included with your order, plus a few bonus items like a blush and brush. It does come with a 30 day money back guarantee.
The Commitment
You are first going to have to master how to spray on the application of the makeup. This takes some practice so you are able to get it even and be able to do touch ups when you want to.
Evaluation
At first, the Mineral Air comes across as being an airbrush but it is more like an aerosol mister. You are not going to have the same flow control that you would have with a airbrush makeup unit. Plus you are limited to what kind of makeup you can use with the Mineral Air. This means you are going to have constantly order the foundation replacements. The write up about the actual makeup that comes with Mineral Air is quite impressive and seems to be of good quality. For those with a lot of skin flaws then the coverage that it is supposed to provide might be quite beneficial.
Final Mineral Air Review
We are going to give the Mineral Air a Try/Buy. While the concept is good there are some potential negatives to it. First we did find it pricey when you consider it is not nearly as sophisticated as a airbrush. Then there is the fact that you can only use it for foundation application. Then on top of this is the fact that you are restricted to having to use their makeup.
Our Recommendation
This form of makeup application is really becoming popular however most that are delving into this are purchasing airbrush units that they can use for the different types of makeup worn. These types of units can be used for blush, and eye makeup application as well. We know that people are looking for easier and better ways for makeup application. In the past we talked about the Temptu Airbrush which was selling for $225. but worked more like a traditional airbrush system.
What do you think? Does Mineral Air work or not?