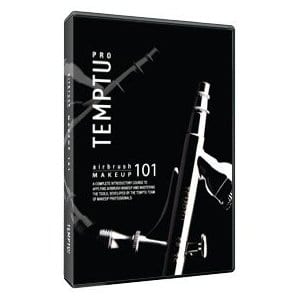 The Temptu Airbrush makeup system is designed to give you the same caliber results as getting your cosmetics professional applied, but without having to visit a salon to get it done. You could use it every day, or just for special events or occasions, because it should give you an even application. But how well does this really work, and is it worth it at this price point?
Overview
Putting on make up can be a tedious daily chore for many of us, but it's something we do anyway to maintain appearances. You're probably aware that many celebrities don't actually do their own make-up, and their stylists will often employ some sort of airbrushing unit in order to make them look magazine ready all the time. When you use a system like this, you should be getting a look that will stay put and not wear off as you go about your day, compared to the way most cosmetics let you down and need to be reapplied several times.
The Claim
The makers of the Temptu Airbrush unit say that it is easy to use, and that it should give you the same sort of results you'd get by having a professional do the job for you.
The Hype
The cosmetic industry is totally based on hype, because it is fueled by our desire to look like models and celebrities, or at the very least is based on trying to look our best, and women will do anything in the name of beauty. If guys had to use something like an airbrush kit to apply makeup to their faces, they'd say forget about it. The hype is that this is taking the makeup game to the next level.
The Cost
The Temptu Airbrush system retails for $225. Compared to some other models out there, this really isn't that high of a price point. You will have to use the right make up to go into it, so there is an ongoing cost of ownership as well. But considering that you could end up replacing your current makeup with this, you'll have to be the judge of whether this is cost effective or worth the additional expense.
The Commitment
You really have to be committed to looking your best if you plan on using this. While they say it is easy to use, it's likely not easier than whatever you're currently doing to apply your makeup. While this should provide better results than ordinary methods, you can expect to put some time in practicing with it and figuring out how to get the look you want. We wouldn't recommend using this for the first time right before a major event or function. Be sure to play around with it and give yourself time to get over the learning curve.
Evaluation
The Temptu Airbrush gets positive reviews from those that have tried it out, and it appears that they have created a quality product that runs with no issues, and that provides consistent results that you can rely on. Those that have tested it against other airbrushing kits have said that this is a winner, and that it provides better results than some of the competition. Of course, you can't base your final decision on the feedback from just one or two people, because every situation is different, but looking at the bigger picture this definitely seems like it is worth a try, and most likely a good value for your dollar.
Getting the Right Look
Keep in mind that your favorite celebrities have a team of stylists that work on their overall image. They will coordinate the makeup to go with the dress or outfit they are wearing, and will even match it up to the accessories that they have on. To try to get a similar look can be very tough, so you have to play to your strengths and come up with your own unique style and look. With something like an airbrush kit, you can play around with different looks and styles, and eventually find one that jives well and makes you look great. It just takes time, patience, and practice with your new toy.
Final Temptu Airbrush Review
Temptu Airbrush is getting a Try rating from us. It's got all of the features you would want in a kit like this, and with a bit of practice you should be able to replicate the same sort of looks you see on the red carpet. The only thing that would cause you not to like this is if you think you will be able to get Hollywood looks the first time you use it. It's hard not to go into a situation like this without some preconceived notions about how something works, but you should give your best effort to read the instructions and follow them as closely as possible.
Our Recommendation
If you're in the market for an airbrushing makeup unit, this should make your shortlist of ones to try. Most people that buy it like it, and say that they would get it again. Just keep in mind that there is a chance you won't like it, so if you're putting all of your eggs into this and hoping that it performs exactly how you want it to, you might be disappointed. The best way to go about it is to give it a trial run with reasonable expectations and then objectively determine if it's worth keeping.
What do you think? Does Temptu Airbrush work or not?