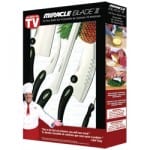 Chef Tony makes the Miracle Blades look great on TV, but do they really work that well when you get them home? Will you really be able to cut through a metal pipe and some wood and then be able to slice a tomato with the same knife? And can you do that cool samurai trick and cut through a pineapple?
Overview
There's a steady market for knives in the American consumer population. And the Miracle Blades have been around for quite some time. These days they are on their third incarnation with the Miracle Blades Series 3 Perfection set.
The Claim
They claim that their knives never need sharpening, and that they can cut through most anything and still remain sharp enough to cut things like fresh bread and tomatoes.
The Hype
The hype comes from the rather sensational stunts they show on the infomercial. They have Chef Tony cut up a piece of wood, and then grind the knives on a piece of metal, and then go right back to slicing a loaf of bread, and dropping a tomato onto the knife and it cuts it in half.
The Cost
You can't order just one set of knives, because the makers of Miracle Blade force you into a second "bonus" set, also forcing you to pay an additional shipping and handling charge.
This takes what would be a $40 knife set and you end up checking out at $70 because of the two shipping and processing fees. This means you get two sets delivered to your door for $35 each. Not bad, just find someone to go in on it with you.
The Commitment
If you love to cook you'll have no trouble incorporating this knife set into your daily routine. If you're not much of a kitchen nut then these probably won't get used enough to justify the expenditure.
Evaluation
You get a full set of knives, good for most any kitchen. You'll get 2 of the all-purpose slicers, a paring knife, a rock n' chopper, a set of 4 steak knives, a fillet knife, and even a pair of utility scissors. These are made out of stainless steel, and not ceramic like the Yoshi Blade.
Do Miracle Blades Really Work?
Yes, they work as shown on the infomercial. They're extremely sharp and able to cut through things with ease. They took every challenge that was put up against them in real world testing like and passed with flying colors. The all-purpose slicer glided through the tomato with barely any pressure put on it.
The rocker chopper was able to slice up a potato easily, and then switch right to chopping it up. The chop and scoop is handy for things like green onions, so you can chop them up and then get under them, scoop them up and move them where you want them.
Do they work as good as professional grade knives that sell for hundreds of dollars per knife? Not really. But for about $4 per piece, this set can't be beat. If you're an ordinary cook then you'll have everything you need to get you through any recipe.
They are ergonomic and well-made. The slicer's handle is elevated so you won't smash your knuckles as you cut. And the rockin chopper has a nub on the top of it so that you have something to hold between your thumb and forefinger, and so you don't have to hold the blade itself.
Structurally the set has remained true to itself through its three generations. They are making it a little more stylish as they go along, and the people at Miracle Blades definitely know how to make, and sell, a set of knives.
Our Recommendation
We recommend picking up a set of Miracle Blades if you're due for a new knife set. At this price point you simply won't find a better set of knives. For the average home cook or aspiring chef, the amount of variety that you get with these knives is amazing. You will be able to cut up a large assortment of foods, and will have a knife for almost any occasion.
What do you think? Do Miracle Blades really work?