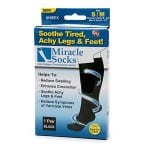 Miracle Socks hope to relieve you of the pain and swelling in your feet and legs. Most of us have experienced sore legs and feet at one point or another, but for some it can be habitual, and unbearable. A pair of compression socks is the usual fix, but those come with some major drawbacks. Can Miracle Socks really be miraculous in providing a solution?
Overview
Compression socks have been used for many years, and have even been prescribed by doctors as a solution for those who experience swelling in their feet. The problem is that these prescription socks are usually big and bulky, and some people have trouble putting their shoes on after putting these socks on. Traditional compression socks are also not very fashionable, so people didn't like wearing them in place of normal socks.
The Claim
The claims come fast and furious with Miracle Socks. They start off by saying that it's great for those who travel, and more and more people are realizing they need to be careful about the circulation in their legs when going on long flights.
They say that it boosts circulation throughout the legs, which reduces fatigue. This means you won't wear out as quickly during your daily routine, and you'll be able to recover more easily from a day spent walking around or standing for long periods. They also claim that their compression technology is better than those used in medical compression socks. They even state that it can help with cases of plantar fasciitis and varicose veins.
Miracle Socks claim that they provide instant relief when you put them on. They also say they it's great for those who work all day on their feet, and allows them to keep working without getting tired and needing to sit down. They also say that Miracle Socks fit into any shoe, and that they soothe and massage your legs and feet while you are walking, or standing.
The Hype
For people that don't suffer from leg and foot pain every day, or swelling in areas like the ankles, the entire product might seem like hype. But they are not exaggerating how bad it is to have pain and swelling in these areas. It can disrupt your entire day and make you feel like not doing anything. If your job requires you to be on your feet all the time, this is a very valid problem that needs a permanent solution.
The Cost
They compare the cost of Miracle Socks to the cost of other compression socks costing around $53. If you follow along with this comparison you might be shocked to find out that you can pick up a pair of Miracle Socks for around $15 delivered to your door. This seems like a very reasonable price if they actually do what they claim they can do.
The Commitment
If you currently use a pair of traditional compression socks you don't have to commit to anything extra. Just replace them with Miracle Socks and go about your business. However, if you currently don't use any sort of sock treatment for your varicose veins, or tired swollen legs and feet, you have to get into the habit of wearing compression socks mostly every day. Once you develop the habit, it will seem like it's automatic and you won't even notice at all.
Evaluation
Since Miracle Socks always compares itself to traditional compression socks, that's the kind of evaluation that's needed in order to make a fair assessment of whether or not they work. Our findings show that they are not the only type of sock like this on the market, and they haven't received the best feedback from what's currently available.
One trick that marketers use is to make it seem like they have exclusively solved a big problem. But the reality is that there are other companies in the market that are also working at fixing the same problem, and just might do it better.
Final Miracle Socks Review
Miracle Socks work, just not as well as you might expect. While they do provide some relief, we feel that the claims made in the promos are exaggerated, and the actual benefit you'll get from them is mild.
Of course, it's entirely subjective because it's dealing with pain. One person may say that it provides a lot of relief, while another might say it hardly provides any.
With something as subjective as this, it's sometimes best to give it a try and see what happens. It's the only real way of knowing if this works for you and your specific situation. It could be that you're one of the people that would get a lot of relief from it and be really happy with the results.
Our Recommendation
If you've tried other compression socks on the market and had no success you can give Miracle Socks a try, because they're cheap. However, don't put your hopes into the performance of this product and then be disappointed when you find out that you only get a moderate amount of relief for your tired legs and feet.
What do you think? Do Miracle Socks work or not?