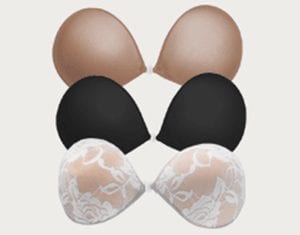 There are so many bras on the market to choose from that it gets confusing as to which is going to offer the best comfort and fit, even if it is the right size. Not to mention potential problems with the straps. My Secret Bra may be an ideal choice.
Overview
Not only does this bra boast of comfort, it is backless and strapless. This is a duel woman pleaser who always struggles with trying to hide the bra so it doesn't show with her outfits.
The Claim
The company claims that lifts, holds and shapes all at once and will revolutionize the way women feel about wearing backless and strapless tops.
The Hype
Anything that offers a solution for being able to hide the bra straps and backs is going to glean the interest of a lot of women. So many clothing styles are available now that create a need for this. Unless a backless or strapless top or dress has a bra built into then it has up until now been difficult to camouflage the bra. The company focuses on meeting this need.
The Cost
Your My Secret Bra is going to cost you $19.99 plus $7.99 for shipping, but you are going to get three bras for this price. They will come in lace, black and nude. Plus as a bonus you will get 48 pieces of fashion tape. Don't worry, the fashion tape isn't used to hold the bra in place.
The Commitment
Now as mentioned you are going to need some fashion tape to hold the My Secret Bra in place, because it doesn't have the straps or backing to do this. You are going to have to adapt to having the tape adhere to your skin as well as the bra, and maybe take a little time positioning the bra for the perfect look and fit.
Evaluation
The bra's cups are clipped together in the center and are held snugly to your skin with the use of super support silicone adhesive that has been applied to the inside of the bra. Apparently it leaves no residue on the skin when they are removed.
Final My Secret Bra Review
We're going to give the My Secret Bra a Try/Buy rating, as we are sort of fence sitting on this bra idea. The concept is fantastic and the price for three bras is really reasonable. What is holding us back a little is there is no mention of how well the bra launders. Will it still have the perfect hold after a normal washing? If not, then this is a pretty expensive articles for a few times wear. We wanted to check around to see if there similar products out there and sure enough we did come across a few. LaSensa is offering a feather light version of the strapless backless bra as well. They say theirs are reusable, but again don't mention washable. This bra also uses an adhesive and in their case they don't recommend it for sensitive skin. The price is a lot heftier as well going at $59.50 for just one bra.
Our Recommendation
We have recommended other products to help with the strap showing issue like Strap Secret, which appears to be a pretty good alternative for the strap problem, but doesn't do much for the backless requirements. We suggest that when placing your order you ask how the bra is cared for regarding cleaning for repeated use.
What do you think? Does My Secret Bra work or not?