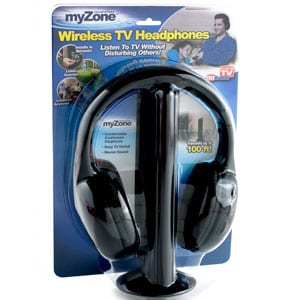 My Zone Headphones seem like they would be welcomed in many instances where one person wants to read in bed or go to sleep while the other person wants to stay up and watch TV. There are plenty of reasons why you'd want these, even if you just have trouble hearing what people say during a drama when they're speaking in a whisper. They looked interesting enough so we tried them out and put them to the at-home test.
Overview
The idea of wireless headphones is not really new, but what's unique about this product is that it's designed to be easy to set up, and it's placed at a price point that makes them attractive to most people. Prior to this, wireless headphones were hard to set up, and were prohibitively expensive. While some people still struggle trying to get these hooked up to the TV correctly, they're are undeniably easier to set up than other wireless systems.
The Claim
My Zone Headphones say that you can enjoy watching television without bothering the people around you. They claim that it gives you the volume control you need so that you can hear it just fine, but no one else can. The sound quality is supposed to be theater quality, and even give you the surround sound effect. Because it's wireless you won't be restricted by a cord, or feel tethered to the TV.
They go on to claim that the earpieces are soft and cushiony so that you can watch a movie and your ears won't be sore afterward. They say that it works with any TV and that you can walk around your house and still hear it because the range is 100 feet. They claim that these install in seconds, so there's not a lot of complicated set up.
The Hype
The hype comes from the infomercial mostly, which is what these promo videos are supposed to do, show you all of the instances you could use the product, and exaggerate just how bad life is without the product. You have to keep a level head, cut through the hype and set reasonable expectations for the product to live up to.
The Cost
My Zone Headphones are set up so that you have to buy two and your total comes to $30 including shipping for both pair. They say it's not available in stores, but it is available at online retailers like Amazon for $18, which gets you just one pair.
The Commitment
Once you get this set up properly, there's hardly any commitment on your part aside from putting the headphones on and turning them on. Some people have said that it is not as easy as they'd hoped to get these set up, but there are instructions included that should make it easier, and there are tips online in case you get stuck.
Evaluation
My Zone Headphones take both AA and AAA batteries for both the transmitter and the headphones. Set up was pretty easy, just insert it into the TV as directed. Make sure not to put these on your ears until you've scanned and found the signal from your TV so that you can adjust the volume before putting them on. You will be able to hear the sounds just fine with the headphones off so you can find the channel your TV is on.
The scanning bit does take a little time, so be sure to let it do its job the first time you use it. After that it should be ready to go for subsequent uses, unless you find that you're using it as an FM radio, then you'll need to rescan when you want to go back to watching TV.
Sound Quality and Comfort
The sound quality you get from these is good. It's not great, so if you're an audiophile looking for big bass and crisp treble, these will disappoint you. Make sure that you scan for the signal properly, because any distortion or static will reduce your sound quality. They have managed to produce a pair of comfortable headphones, and you can wear these for extended periods of time without much discomfort. This comes in handy when you're watching a movie, and with headphones on you can replicate a home theater feeling without having to take up all that room with speakers and wiring it all up.
Final My Zone Headphones Review
My Zone Headphones worked just like they said they would during our real world testing and we're giving them the Thumbs Up. We've noticed they've gotten their share of negative reviews, but it seems to be a mix of user error, faulty units, and perhaps even people reviewing headphones that are not the authentic. The ones we received and tested out worked well, and we can only imagine that you will have a similar experience.
Our Recommendation
We're really happy with the way the headphones performed, and tried to show you what the sound quality is like in the video. There's only so much you can expect from a pair of $20 wireless headphones, and we say it over-delivers. If you're looking for a Bose level of sound at this price point that's a little unrealistic, but for a pair of wireless headphones these come in handy, and the fact that they double for an FM radio only sweetens the deal.
What do you think? Does My Zone Headphones work or not?