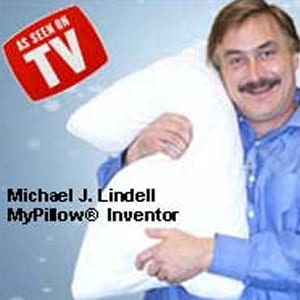 If you're tired of tossing and turning trying to get a good nights sleep, the MyPillow might be good for you. The inventor says that he guarantees that the most comfortable pillow you'll ever own. Inventors seem to say a lot about their own products, but does this pillow actually stand up to the claims, and we really get some of the best sleep you've ever got just by changing your pillow and leaving all else the same?
Overview
Pillows are big business and there's always companies coming out with the latest and greatest developments. One of the biggest pillow problems is that they get hot when you sleep, waking you up in a sweat and causing you to have to flip the pillow around to get to the cool side and get back to sleep. Another big complaint is that it doesn't line up your neck and your spine causing kinks in your neck and a stiff neck.
The Claim
They claim, or hint at claiming, that this pillow can help with an assortment of ailments including neck pain, snoring, migraine headaches, sleep apnea, allergies and asthma, fibromyalgia, insomnia, and restless leg syndrome. That's quite a feet for something that is just used on your head, and only for about 8 hours a day.
They do make it a point to explicitly state that the claims they are making are not scientifically proven, and based only on what people have said after using the pillow for awhile. In all of our research we have yet to find a company that outwardly states that their claims are based on user testimonials, and not scientific testing. What a breath of fresh air!
The Hype
This product is just on the verge of hitting the mainstream. It seems to be produced with a low budget, which can be refreshing compared to all those sleek as seen on TV infomercials and websites that are really good at separating your money from your wallet.
The Cost
For the Standard and Queen version the cost is $80 and the King size is $90. If you want to order multiple pillows the shipping cost is always a flat $10.
The Commitment
Simply replace your current pillow with a MyPillow and sleep as you normally would. It's designed to be used by all sort of sleepers, no matter if you like sleeping on your back, side, or stomach.
Evaluation
The pillow is designed with 3 special tubes that keeps it cool, and it's also designed to contort to your shape, so you won't have to bunch it up, or flip it over to find the right spot, or to get to the cool side. It is pretty innovative, and you can tell that it's not like an ordinary pillow.
This is the kind of purchase where won't matter how many reviews you see, either positive or negative, you just have to give it a try in your own bed and see what sort of experience you have with it. With the 60 day guarantee in place you are only going to risk the $10 shipping charge, and that's if you don't like it. If you try it and like it $80 or $90 will seem like a very good investment towards proper sleep every night.
You have to take the time to choose the right size when you're ordering, because that will make all the difference on whether or not you think that it works. They had a broken down between men, women, and children, as well as what size person is and how you like to sleep. This is perhaps the only company on the planet that has so many different sized pillows according to the size and shape of a person.
What People Are Saying
It's hard to deny all of the positive feedback that is coming in for MyPillow. Few people have said that it hasn't made any difference at all to the way they sleep. Perhaps the closest thing to a negative review is that the MyPillow is just okay, and not spectacular. We couldn't find anyone that said they regretted their purchase and that product is just a lot of fluff.
Final MyPillow Review
MyPillow has done a lot of things right when it comes to devising a pillow that will satisfy the majority of users. By realizing that not everyone is the same size and shape, especially between the two sexes, they take a big step towards providing a personalized sleeping experience.
Our Recommendation
If you're struggling to get a good night's sleep, and don't have a pillow that provides you comfort, you should definitely give the MyPillow a try. They are getting really good reviews from those that have used it, and have covered most of the issues that people have with conventional pillows.
Better then MyPillow
A more popular option is the Mediflow Waterbase Pillow. It has super reviews on Amazon and is cheaper. If you are wary of the MyPillow, go with the more trusted product (it has over 400 5 Star reviews on Amazon).
What do you think? Does MyPillow work or not?