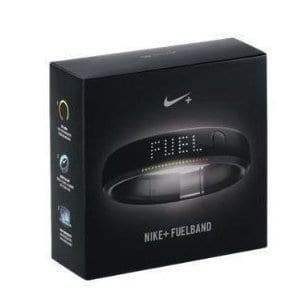 The Nike+ FuelBand is a little wristband that you wear in order to track your activity and see how much you're moving throughout the day. It's supposed to make exercise more fun, and allow you to track it more precisely. So how well does it actually work?
Overview
Have you heard of the Quantified Self movement? It's a new breed of technology that is currently hitting the market that allows you to track all sorts of things that you do daily. The data it collects is supposed to help us make better choices and get a clear and objective picture of where we're at and how we're doing. You can have devices attached to you that track things like the kinds of food you eat, how you're feeling, and how well you're performing, either psychically or mentally.
The Claim
Nike claims that their Nike+ FuelBand, worn on the wrist, will track your daily activity, including how many steps you've taken and how many calories that equates to burning. You then go online and see your activity mapped out for you, allowing you to earn badges and earn NikeFuel points. It's supposed to be a way to make exercise fun, and to motivate you to be more active. By making a sort of game out of it, it becomes less of a chore, and more of a way for you to see if you can outdo your personal best, or earn more and more badges.
The Hype
Nike is pretty good at advertising, and they spend millions of dollars on it annually. The ad campaign for the FuelBand shows the different ways it's used, and how it could benefit athletes and weekend warriors alike. When it was first released there was a virtual craze for them, and they sold out quickly, forcing many people to turn to eBay to buy them at an inflated cost. The device single-handedly boosted the profits for Nike, putting them back in the black for the year. Some impressive feats for a new product.
The Cost
The Nike+FuelBand retails for $150, which is pretty comparable to similar products like the FitBit, which is set to release their wristband and price it at $100. It becomes a matter of comparing the different features, seeing which one performs better in certain areas than the other, and determining if it's worth the extra cost to go with one over the other. In this case the FitBit model seems to be the winner at first glance because it does most of what the FuelBand can do plus it tracks your sleeping patterns.
The Commitment
The first thing you'll need to do is wear this, which is set and forget once you get used to having it on. The next step is to get it synced up to your computer so that you can analyze the data that it is collecting. Without that second step there's pretty much no point in wearing it. It's up to you how often you want to check in. Some people like to check in daily and see if they can outdo yesterday's performance. Others want to see a weekly breakdown of their activity and resolve to do better the following week.
Evaluation
The big draw of the Nike+ FuelBand is that it's backed by a company that has been around for decades and is tied closely to the fitness industry. They seem to have made a pretty good entrance into the market, with a device that works pretty well at what it does. They'll no doubt be coming out with improved versions of it year after year, putting new features into it and making it work even better. So far though the reviews have been mainly positive, and users say that it does help them get up and get moving more. Making the shift from having to do something to wanting to do something is huge when it comes to exercise. For many that's all they've needed all these years to get healthier.
Some have criticized it for not being able to track how many calories you're consuming. But since it doesn't say that it can do this it shouldn't be held liable for it. There's no device that we've been able to find that calculates your calories that you're taking in. There are programs that you can manually enter the food you eat and it will determine how many calories you've eaten, and maybe they'll incorporate this into future releases, but for now you'll just have to calorie track on your own if you want to calculate an in/out ratio.
Final Nike+ FuelBand Review
The Nike+ FuelBand is getting the Solid Try rating, as long as you're aware of its limitations and it still sounds good to you. It excels at activities like running, jogging, walking, and more, but it lags behind when you're doing things like a stationary bike. You also can't use it when you're swimming, so if that's one of your favorite things to do you might want to wait until they come out with a waterproof version.
Our Recommendation
When it comes to using a device to track your different activities, you're spoiled for choice. There are ones that are worn on the wrist, others that get clipped to your waistline, and others that you can put in your pocket. The technology is moving to the point where you'll eventually be able to opt to have it embedded inside you so you don't have to worry about it, and so it can take more precise measurements of everything you do. Until then, it seems like a wrist-worn gadget is where things are headed.
What do you think? Does the Nike+ FuelBand work or not?