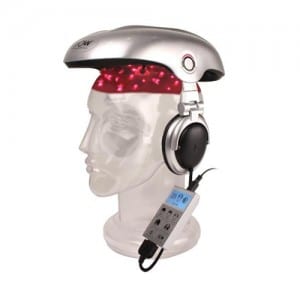 The iGrow is a Space Age looking device that is supposed to help you regrow your hair and stop hair loss. You might think this is the latest release from Apple, but it's not. So how well does it actually work at returning order to your natural hair growth.
Overview
When you're losing your hair you'll look for anything that works. There are many different treatment options, and each company has a different approach as to how to get your hair loss to stop and even better to get it growing again. Some use creams, lotions, and serums. Others use pills to supply the body with the nutrients it needs to grow hair again. A relatively new approach is using laser combs. The iGrow is trying to take the laser comb technology and make it easier to use.
The Claim
They say you can get thicker, fuller hair in a matter of weeks using the iGrow. That's a pretty bold claim since most hair growth products not being able to have an effect that soon. They say you'll be able to keep your current hair, and that it doesn't matter if your genetics are working against you. They also say that it works for both men and women.
They also say that there are no side effects to using this, that it's designed to be safe for home use, and that it's totally automated so you simply put it on and it does the rest. They claim that the hands-free nature of the device makes it something that you can travel with and use wherever you are.
The Hype
Hair loss is already a hyped up industry, and when you take into consideration that this is a laser helmet you're going to turn some heads with it. The look of it alone hypes it up because let's face it, it basically looks ridiculous. But you can't hold that against it
The Cost
The iGrow is $700 at Amazon, and they say that this is affordable when you start adding up all of the monthly costs you'll be avoiding if you used other treatments. But let's face it, that's a pretty good chunk of cash to put down on something that doesn't really have enough peer feedback to make you feel at ease that it will work.
The Commitment
You'll have to commit to using this on a regular basis if you want to see the best results. It's not as if you can wear this to work, so it's something you'll have to use in your free time. Also, if you don't want anyone to know that you're doing something about your hair loss, you'll have to find a private time to use it.
Evaluation
If you look further into what they're saying, you'll see that they want you to use this for 12 weeks in order to make a determination on whether or not it works. Their return policy gives you six months to evaluate it, but the catch is that they charge you a restocking fee on it. This means that it's not a risk-free trial. When you look at it from their point of view, it's not as if they can resell your iGrow helmet once you return it, so they're likely covering their production costs this way.
You'd basically be a guinea pig for this product, since there isn't enough third party feedback on whether this works or not. It might be a better offer if they let you break up the payments into installments, or offer a trial period where you pay a smaller up front cost of around $100 and then pay the balance if you like it after 60 days. But the way they have this set up puts all of the risk on you, even with their guarantee in place. Anytime we see that we think that the company isn't very confident in their product. We like it better when there is some risk placed on the business so they have a vested interest in bringing a working product to market.
Final iGrow Review
The iGrow is getting our Risky Try rating based mostly on their 6 month money back guarantee, and the fine print of how it works. While it's unclear whether or not this works for the majority of those that try it, it's something that you can try out for an extended period of time. The company is pretty confident that after using it as directed for 6 months you won't be sending it back. With this price point you're not going to forget to return it if you're not happy with it.
The only thing that can trip you up here is if you get it and don't use it as much as you're supposed to. If after 6 months you don't like it and end up returning it, the restocking fee will be about $120, so worst case scenario you're going to pay $20 a month to try it out and see what you think. When you look at it this way, and compare it to the cost of trying out other products, it doesn't sound like too big a risk. Plus if it works you've got a one-off payment for a hair growth solution that you can use daily with nothing more to pay.
Our Recommendation
The large upfront cost on this is hard to swallow, especially considering all of the non-laser options that are less expensive and get good reviews. But if you can swing it and you want to try it out this seems like a viable option.
What do you think? Does iGrow work or not?