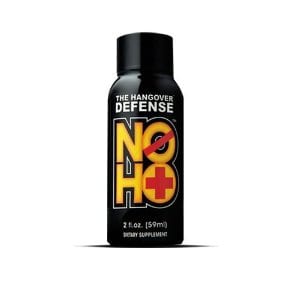 If you had a big night out NOHO Drink wants you to believe you can avoid the aftereffects by taking it before you start to drink. It's supposed to create a sort of nutritional firewall so that you can load up on the vitamins and minerals that your body loses when drinking alcohol, thus preventing a hangover. But how well does it really work, and what are real users saying about it?
Overview
Hangovers might make good fodder for movies, but they're just no fun to suffer through. If you find that your hangovers are lasting longer and are more severe than when you were younger, or you just want to be able to let loose and have a good time without worrying about losing a day the next day, you've probably done some research on how to get rid of a hangover. The theory here is to prevent getting one, or to make it as easy to deal with as possible. Proactive is always better than reactive, so let's see what else is involved here.
The Claim
The makers of NOHO Drink say that you can prepare your body for the depletion of vitamins and other good things by drinking their shot before drinking your first alcoholic drink. They also say that if you have more than 5 drinks you should do another shot to account for the additional onslaught. They say that a hangover can't be cured, but it can be prevented. The only flaw to this theory is that you have to know beforehand that you're going to have a bender of a night, and often the best benders are the ones that you weren't expecting.
The Hype
We all want to have fun, and if we can do that without suffering the consequences the following day so much the better. The idea of outsmarting the body and circumventing a day filled with headaches, nausea, and lethargy provides enough hype for this product, and it makes a great impulse by if you're out and about and happen to see it near the register.
The Cost
You can get the per bottle cost down by buying in bulk. They've got a 6 pack that goes for $22 which puts the per bottle price at under $4. Of course it will be more expensive if you buy a one off at retail locations like 7-11 as retailers will need to make a profit.
The Commitment
The point of this is to reduce the amount of time that you have to devote to recovering from a night of drinking and partying. Since you don't have to keep drinking it while you're partying, it's easy to take it and then carry on as normal. One other thing you should try and do is keep yourself hydrated both while you're drinking and before you go to sleep. The combination of loading up on vitamins and keeping the water flowing should do wonders to help you avoid a day of severe malaise when you wake up.
Evaluation
Hangovers have been stymieing scientists for years now, and they have a lot of different theories as to how they're caused. There's also a big debate over what works for a hangover, and what doesn't, with no clear winner emerging yet. For a company to say that they've figured out the cause and the solution as well seems like a tall order. There's little doubt that the NOHO Drink would have some benefit to it, and would be better than not taking anything at all, but you should set reasonable expectations when you decide to take it.
It's sold in the same sized bottle as
Five Hour Energy
, and a lot of partygoers have taken to the idea of using
energy drinks
and alcohol in conjunction with each other to extend the night, as well as basically taking an upper and downer at the same time. The problem is that this is just more toxins for the liver to filter, and works to dehydrate the body further, worsening conditions the next day. By taking a supplement like NOHO Drink you're giving your body a jolt of what it will need in order to defend itself for the coming attack, which does make sense.
Final NOHO Drink Review
Taking a shot of NOHO Drink before a big night out would put you in a better position than not doing anything at all, but the only sure prevention of a hangover is to drink moderately and not go too far. You could use this as a safety net though, for those times when somebody brings that extra shot that puts you over the edge. While there isn't a surefire way to avoid getting a hangover, taking proactive measures is a better idea than trying to deal with the hangover once you have it. If this can lessen or even drastically reduce the lousy feelings the next day, it's worth it.
Our Recommendation
For some events you just can't seem to help drinking past your limit, whether it's your friends wedding, a bachelor or bachelorette party, a trip to Vegas, or some other time when you just want to let loose and get crazy, the point is you can see it coming. In those instances you can prepare for things, and take precautions to try to limit the damage done to yourself, and help get back to normal the next day.
What do you think? Does NOHO Drink work or not?