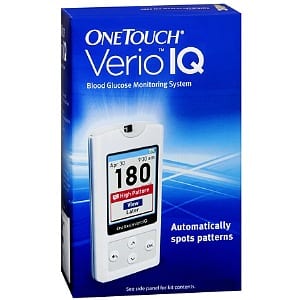 The One Touch Verio IQ advertises itself as one of the smarter blood glucose monitors on the market, and says that it can provide isullin users with more data than conventional meters. If you're suffering from diabetes you likely welcome the idea of getting more information with the same prick of the finger. So we looked more closely at what people are saying to see if this really works or not.
Overview
Scientists are currently hard at work trying to come up with ways to bring a painless blood glucose test, but until a reliable method is discovered the next best thing is to use the most sophisticated software to analyze what's going on in your body. The strips that are used by this device are supposed to be pretty advanced, and when used in conjunction with the Verio IQ they are supposed to provide accurate readings, as well as let you know if there are any patterns forming in your day to day levels.
The Claim
One Touch claims that their Verio IQ model can alert you to trends in your glucose levels. They say that when you use the Verio strips with it that you are getting fast, accurate readings, but that it is also keeping an extensive catalog of all of your previous readings, analyzing the data, and is able to show you it in a bright, color screen. Compared to less flashy meters this will seem like a technological marvel, but unless you can actually take action on its recommendations, it's just a lot of razzle dazzle.
The Hype
Diabetics are always looking for better ways to help them manage their condition, so any product that comes out that offers a better experience, either with less pain or with better and more accurate readings is going to get some hype. This product has a pretty heavy advertising campaign behind it, and it also brings something to the table that is pretty innovative, so it is enjoying its moment in the sun.
The Cost
The electronic component of the One Touch Verio IQ is priced around $65, and you can find the strips in varying quantities. Some example prices include a pack of 25 for $39, a pack of 50 for $71 and a 100 pack for $131. Some users have complained that the prices for the strips are a bit high, but go on to add that it's worth it for the accuracy and for the helpful information they receive.
The Commitment
You still have to prick your finger to take a reading, so the commitment level is pretty much the same as an ordinary meter, but what it does with your sample goes beyond what most every other meter can do, so you're actually getting a bigger bang for your buck. You can use the information this provides to make better choices in what and when you eat, and as a result you could end up requiring less insulin. If that happens it would represent a reduction in your involvement, as well as the potential benefit of needing to buy and use less insulin.
Evaluation
The One Touch Verio IQ gets pretty good reviews both from the experts and from regular users. They say that being alerted to trends is very helpful, and many times you'll discover patterns you probably wouldn't have picked up on on your own. This can help you make better choices, but also make fewer mistakes, keeping your levels in check and avoiding spikes. It can even alert you to times when you need to be careful, for example, if it knows that your levels run high before your evening meal it will set an alarm to almost catch you in the moment so you can do something about it.
When it comes to managing your diabetes, being proactive is far better than being reactive. Preventing peaks and valleys is the name of the game, and this device is set up to help you do just that. By solving problems before they happen you are going to end up living a better quality of life overall, and it could even lead to less of a dependency on insulin. Of course there's no guarantee that it will see a pattern, if you don't have one, but most likely there is something in your daily routine that this could pick up on.
Final One Touch Verio IQ Review
We're giving the One Touch Verio IQ a Solid Try rating if you're in the market for a new meter, or if you want to have a better idea of when your levels typically drop or spike. This is the Information Age so we have to take advantage of new technologies as they're released to the market. The more sophisticated you get with your methods of measurement and monitoring the more normal of a life you can lead, and the fewer instances you'll have where you're panicking to get things back to normal. This product is also available in Canada.
Our Recommendation
The makers of the device don't go as far to say that you can reduce your insulin usage with this, but if you can prevent enough spikes in your glucose levels by avoiding situations that are present in your daily routine, it only makes sense that you would need to resort to a shot to get them back to an acceptable level. When it comes to your health you can never have too much information, and if you can find this at a low enough price it seems like a good investment.
What do you think? Does One Touch Verio IQ work or not?