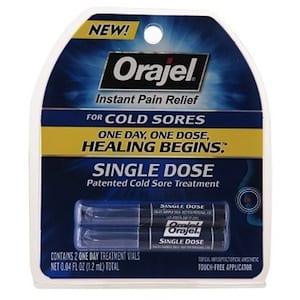 Orajel Single Dose, as the name implies, is supposed to provide you with relief from a cold sore by just using it once. This is in contrast to the repeated applications you need from other versions on the market. But how well does it work, and what are actual users saying about its effectiveness?
Overview
When you have a cold sore you really just need something that starts working right away, and something you can forget about after using it. The only thing is that if you go with a regular cold sore treatment you typically have to wait for several days before you start to see results. The other issue with this method is that you need to keep reapplying as it each day, sometimes several times a day, for it to work.
The Claim
The promise of Orajel Single Dose is that you simply apply it once and you shouldn't have to worry about applying it again. They claim to have a patent on the formula, so while you might be able to buy other single dose treatments either over the counter or by a prescription, they're saying that theirs is best and you can't get that exact treatment elsewhere. They say the steps to follow are very easy, and leave little room for error so that you know you'll be treating it the right way right from the start.
The Hype
Orajel has been around for quite some time now, but they are most famous for toothache pain relief. Since their name is derived from oral, they appear to be branching out into other oral problems and are hoping to use the brand recognition from being around for so long.
The Cost
You can get a 2-pack for less than $20 which will help you through two instances of cold sores. This is reasonably priced no matter how you look at it. Other cold sore treatments cost around the same, but do not have the "one time" feature like this one does, so you're getting a more effective product for the same price or better.
The Commitment
Since you only have to use this once, your commitment level is very low, especially when compared to other products that require repeated applications. However, there are prescription drugs that you can take daily, and you'll never have another cold sore flare up in the first place, so if you really want to get rid of your cold sores that might be the easier way of going about it, as long as you don't mind taking a prescription drug daily.
Evaluation
The feedback on Orajel Single Dose has been extremely positive. Of course whenever you have a health related product like this there are bound to be some naysayers that go against what everyone else is saying, and it's not surprising that there are those this didn't work out for. It could be that what they had wasn't a cold sore. That's why it's important to get a proper diagnosis if you haven't had cold sores before, rather than diagnosing and treating yourself without a consultation. If you've already had cold sores you know the routine and can effectively treat them at home on your own.
Orajel has been around for awhile:

It's not everyday you see a company that's able to successfully develop and launch a new type of product, but that's exactly what Orajel has done here. They've expanded their original product line of just toothache products and have moved into mouth sores, and now cold sores. Not only have they entered a new market, but they have shaken it up, offering a treatment method that is different from others that have been around for several years, as well as products like
Abreva
that came out somewhat recently and shook things up.
Final Orajel Single Dose Review
Orajel Single Dose is getting our Thumbs Up rating, as it has shown itself to be true to its word and has proven itself in real world tests. Sometimes it's possible for an OTC drug to be more effective than a prescription, and this makes it easy to get a powerful treatment without having to go through the hassle of going to your doctor each time you feel a cold sore coming on.
Our Recommendation
Finding relief from a cold sore is not always the easiest thing to do, so if you've had limited results from other products, or you don't feel comfortable taking prescription drugs from your doctor, you should definitely give this a try, as it has shown to work for the vast majority of those that try it. Of course there is a chance that it won't work for you, but at this price point it's worth trying out, and if it doesn't work out you haven't risked much to try it both in time and in money.
What do you think? Does Orajel Single Dose work or not?