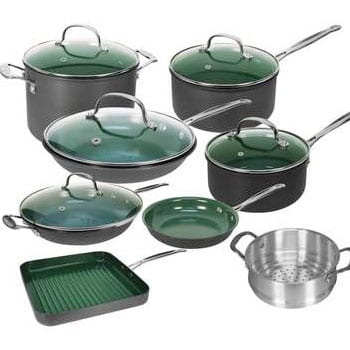 What characteristics of a cookware, specifically a pan, do you usually consider before buying one? Years ago, many people really didn't consider anything. they'd just grab one and rush to the counter. It was not long before they realized that you should be very careful in choosing the most beneficial and effective cookware since the quality of the food you will be cooking will depend greatly on the quality and features your cookware has.
To aid the helplessness that many people now feel because of the low quality of kitchenware products which the current market offers, OrGreenic kitchenware presents to you Orgreenic pans that claim to be truly better and much more unique than those currently available in the market.
Overview
An OrGreenic pan is made of a non-stick natural ceramic top that is said to avoid flakes, chips, and wear-offs. Also, it is popular because it is claimed to be non-stick up to any temperature, it retains heat much longer, and it cools off its handle, which is unusual when it comes to pans. In addition, with OrGreenic pans' features, these pans are reported as PFOA-free, which impresses many health-conscious consumers.
The Claim
Aside from what was mentioned already, Orgreenic pans can still surprise you with many of its not-so-popular but truly cooking-helpful and time-saving features. The most popular and useful feature of OrGreenic pans is their non-stick physical property. Being non-stick is important to a pan to avoid PFOA which is considered a human carcinogen.
Considering this characteristic in buying a pan should be crucial because some coatings that are present in non-sticking pans can wear-off onto your food and that should be a serious concern. An OrGreenic pan requires very little or no oil at all. This characteristic of an OrGreenic pan is best for those who can't afford to have more oil in their system and also for those who would want to be economical on their cooking oil stock. It is also easy to clean. These benefits are possible also because of the pan's non-stick properties.
OrGreenic pans can also cook certain foods in a much shorter time than those other pans because of its heat-retaining property.
The Hype
The hype comes mostly from the infomercial, which makes most anyone that sees it want to use it. Non-stick pans will always be popular, because food sticking to a pan is one of the biggest kitchen complaints of our generation.
The hype-causing commercial:

The Cost
You can grab an OrGreenic pan for around $20-30 depending on whether you buy it online from the manufacturer, or from Amazon, or if you keep your eyes open you might be able to find it in retail shops.
If you're already an aficionado in the kitchen, then you won't need to make any special resolutions to using the pans, but if you're hoping that they will magically turn you into the next Gordon Ramsey then you have to be more realistic.
Many people spend boatloads on products for the kitchen, in hopes that this will be the catalyst they need in order to cook more. What ends up happening is that these products collect dust on the shelves and rarely see the light of day. First try developing the habit of cooking more using the utensils and gadgets you currently own. If you can get a good routine going, then you can introduce things like OrGreenic into the mix without worry.
Evaluation
If you evaluate the product, you may see that it is equipped with better physical properties than an ordinary pan has. Also, it is sold at quite a reasonable price with a lifetime guarantee and health benefits. So, there is no need for you to speculate deeper because OrGreenic is nothing but the best. With everything that the OrGreenic pan can equip and benefit you, we definitely recommend you to try using it in your own kitchen.
Final OrGreenic Review
With so many positive reviews that have come in, it's hard to imagine so many people being wrong. They say that OrGreenic pan had made them more worry-free of their foods because of the pan's PFOA-free characteristic. Well, that PFOA-free characteristic has truly made the pan more unique than others on the market.
Also, it can cause you to use fewer ingredients when you use it because the pan makes it reasonable enough not to use extra butter, oil, or other non-stick coatings. Every benefit that you may get from this pan is because of its characteristic of being a non-stick pan. With this, it is right to say that OrGreenic can be trusted to improve your life, or at least your life as a wannabe chef.
Our Recommendation
OrGreenic pans have proven that they work. It is safe enough to say that these work and they are effective enough in helping stay-at-home moms and dads as they work in the kitchen. So, we recommend you to buy one now before you miss out on the special bonuses the product comes with.
Official Website: Orgreenic
Alternatives to Orgreenic Pans
If you are looking for a similar product, but don't trust the Orgreenic Pans, then get a NuWave Perfect Green Frying Pan.
Or if you want something with more reviews, get a 10″ Green Earth Frying Pan by Ozeri. It has great reviews on Amazon.
What do you think? Does the OrGreenic work or not?