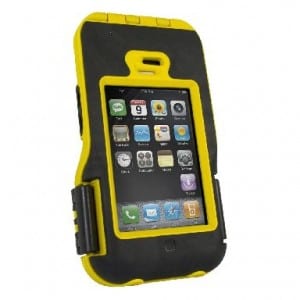 The OtterBox is a special case for the iPhone and other smartphones, and the iPad and other tablets that is supposed to make it basically impervious to drops and other accidents.
Overview
Ever since cell phones started getting popular there have been cell phone cases to help protect them from damage. As they get lighter, thinner, and more sophisticated, it's become even more important, as well as more difficult to keep them safe from harm. It seems easier to scratch or drop today's phones because they go with us everywhere and always seem to end up in harm's way.
The Claim
The makers of the OtterBox claim that it will make your smartphone or tablet waterproof, dust proof, crush proof, and able to bounce back from drops. They say that it's the best selling case in America for smartphones. They have different series' of phones depending on your lifestyle and the way you use your device, so you can shop depending on what type of case you need.
The Hype
These are pretty much super popular right now, with many trusting their precious gadgets with the case, even though it seems to add to the size of your phone making it hard for you to put into your pocket or other slots that are meant for phones. They keep adding new models to their offerings, making it a better experience for the user, but also making the choice harder since there are so many to choose from.
The Cost
In the world of cell phone cases, you're going to pay a premium to get an OtterBox. You can get cheap plastic cases for less than $5, and you're going to pay around $30 or more for an OtterBox depending on what kind of phone or tablet you have. They say there's no substitute for quality, but at the end of the day we're talking about a plastic case. Not all plastic is created equally of course, but it still seems rather pricey for a cell phone case.
The Commitment
Once you've got this on your phone you pretty much can forget about it. You might need to take it off your phone if you want to use it with one of those speaker/charger units that let you listen to music on bigger speakers.
Evaluation
The OtterBox isn't winning fans on accident, it does work really well and lives up to the claims it makes. Not only does it work in the short term as far as protecting your phone from individual incidents, it's also effective for the long term, providing protection over the life of your phone.
You can't really make a strong case for this product not being effective, but it is possible to nitpick on some features that aren't exactly ideal. This might not be the most attractive case in the world, but they've taken steps to make newer models sleeker and more attractive, as well as slim as possible while still providing the same sort of results. Earlier models were big and bulky, but now they seem to have slimmed it down as much as possible.
One common complaint is that once you get the case on it's hard to take off. Also it makes it hard to put your phone onto iHome and other peripheral devices that require you to dock your device. There is also concern that in moist environments it won't work too well for you since it can fog up and make it hard to see your screen. There are also complaints about the placement of certain pieces of the case that interfere with the input for headphones and microphones. This seems to have been rectified in newer models. This shows that the folks at OtterBox Inc. are listening to the feedback and making upgrades on their already successful line of products.
It's a good idea to buy the cases straight from the source, or from an authorized retailer, because there are a ton of knockoffs out there that claim to be similar to an OtterBox, and may even look and fit like one, but aren't actually made by the same company. Even though imitation may be the highest form of flattery, and you might be tempted to save a few bucks, the difference in quality is apparent, so you don't want to end up with a flimsy piece of plastic and entrust your phone's well-being to it.
Final OtterBox Review
The OtterBox is getting our Thumbs Up review. You can justify the extra cost by the fact that it's protecting your devices that cost hundreds of dollars, and potentially extending the time you'll be able to use them, meaning you won't have to replace them as often. The proof is in the thousands upon thousands of actual buyers that say it works, and that it does what it says it can do.
Our Recommendation
If your phone is the main crux of your life and you can't get by without it, you need to take steps to protect it and keep it functioning properly. Part of the process is to protect it from bumps and bruises with a case like this, but you also may want to buy some insurance for the phone in case it get lost or stolen, or in case the cover you get for it isn't enough and your phone still ends up damaged.
What do you think? Does OtterBox work or not?