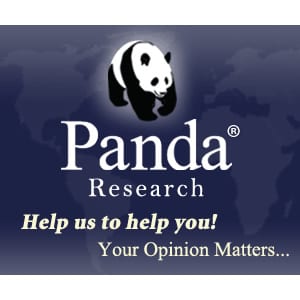 Panda Research may have a cute name, but can they really help you make money from the comfort of home? Everyone wants to earn money online, and the idea of taking a survey and having someone pay you for your opinion is very enticing. There is much debate as to whether these sort of sites actually work, and our first thought is that none of them do, but we dug a little deeper to see what Panda Research is all about.
Overview
Paid surveys online have been around for at least a decade, and is a booming industry, with new players coming into the game all the time. Panda Research boasts that they've been around for 7 years now, and that they have paid out a substantial amount to their members, an average of $2.5 million annually. This might be impressive, but they do not divulge how many members this was to, so it's hard to gauge what sort of checks people are receiving.
The Claim
They claim to have paid out over $1.8M to those completing surveys. They say they currently have a Credit Score Review survey that pays $12 and a Cable TV Survey that pays $50.00. They claim that their surveys can pay anywhere from $3 to $75, but of course most people only see the $75 max and think that this is the kind of surveys they'll be taking, and that it will only take a few minutes to give their opinion.
They also say you can get coupons, discounts, rewards, giveaways, gifts, and other items that are uniquely tailored to your tastes and interests, based on how you answer the surveys. Read: They are going to spam you with offers every time you complete a survey.
They also claim that you can refer friends and family to it and you'll get a 10% bonus from all of their payouts for as long as you use the system. They make payments twice per month and they pay through PayPal.
The Hype
The hype is that this falls into the make money effortlessly and from home category that many people fall victim to. Making money usually requires know-how and effort, and if it doesn't, you're usually sacrificing something else such as money, or time.
The Cost
It's free to sign up as a member of Panda Research. You may be asked to sign up for an offer in order to get credit for taking a survey. This is where you can just choose not to sign up, or sign up if it sounds like something you'd be interested in. But you shouldn't sign up for something just to get credit for the survey, because that could add up pretty quickly.
The Commitment
You definitely have to put the time in to complete the offers and even have a chance at accumulating money with Panda Research. This is not something that you can just sign up for, and forget about, and expect to make anything with. You also have to bug your friends to try it, or set up some other way to attract other users before you can receive a payout of your funds.
Evaluation
It seems that the terms and conditions make it really hard to actually see any money from this endeavor. They have stipulations like you have to have 5 people join under your account before you can receive a payment, and also that you have to have $100 clear before you can request a payout. The word "clear" is where they get you, because they have to confirm your funds before they are released, and there are reports of people having over $1000 in a "pending" state, and therefore not being able to withdraw the cash.
It's videos like this one that make it seem to easy to make money with paid surveys:

Final Panda Research Review
We going to have to give a thumbs down on Panda Research. There are too many conflicting reports from users that said that you have to actually sign up for offers in order to have your funds clear, which means that you will likely end up paying for some service or product just to collect your payment for taking the survey.
One thing that we do like is that they make it pretty easy to unsubscribe from the site, and claim to delete all of your personal information when you do so. There are some sites out there they complicate this process, and store or sell your data and personal information to third parties in an attempt to milk your account for all it's worth.
Also, they never claim that you'll get rich taking surveys, which is another way that many of these sites rope you in. They say that this should only be used to make some extra money on the side. Some sites out there say you can make a full time income or more by taking surveys or reading emails.
Our Recommendation
Since it's free to sign up, why not give it a try? You can stop at any time, and this is really the only way that you'll satisfy your curiosity. If you come to the point where you need to use your credit card to sign up for an offer, just don't. And if you get fed up with them, just go through the account deletion process and you're back to normal.
What do you think? Does Panda Research work or not?