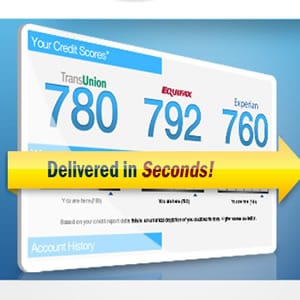 Checking your credit score is thought to be a good idea, and Free Score 360 wants to make it easier for you. For $1 they claim to present you with your credit score from the three major credit bureaus quickly, and without the need for filling out the same forms over and over again. But there's more to this offer than meets the eye, and we had to dig a little further to bring you the whole story.
Overview
In the world of credit, nothing can hold you back from what you want quite like a low credit score. The only problem is you have 3 different score at three different credit agencies, and it's important to know the status of each, because having one oddball will throw off the whole system. Although you're entitled to check your credit report annually for free, or when you're denied credit, your credit score is not free to check, and you'll end up paying to see it if you go through each agency individually.
The Claim
Free Score 360 claims to be able to fetch your credit score from Equifax, TransUnion, and Experian and bring it to you in an easy to read interface. The thought it you'll quickly and easily be able to spot any major difference between the different scores, and take the next steps to investigate if there's a problem.
The Hype
The hype is that it's not really just $1 to check your scores. You're automatically enrolled in their credit monitoring service once you cough up the credit card details. That's $30 a month until you cancel it. It seems that the $1 charge is just a ploy to get people signed up for the monitoring service, of which most people will either be unaware of since they didn't bother to check the terms of service, or they will keep on with because they think it is helping them improve their credit score.
The Cost
They say that it's only $1, but a look at the offer on their main site shows that:
By submitting your secure order you will be immediately charged a $1 refundable processing fee, be eligible to receive your 3 free credit scores, and begin your trial membership in ScoreSense® credit monitoring. At the end of the 7-day trial period, your credit/debit card will be charged $29.95 on a monthly basis unless and until you call … to cancel your membership in ScoreSense.
Our only concern here is that if ScoreSense was such a great service, why don't they properly pitch it instead of tucking it away in the offer terms? Why not make the strongest case they could about why it's so important to monitor your credit and all of the features and benefits that ScoreSense offers. However, after doing further research at the ScoreSense website, it seems that both sites are owned by giant insurance corporation AIG, and little information is given as to why it's such a needed service.
The Commitment
This is supposed to be a time saver, not to mention a cheap way to get your credit scores without going through each website separately and paying to see it. But you have to stick with it and jump through all of the hoops, fill out all of the forms, and do what they ask until you actually get your scores, which can be too much for some people.
Evaluation
Even the major credit bureaus will try to upsell you on a credit monitoring service, so it's not as if Free Score 360 is doing anything out of the ordinary here. If you've ever tried to get a free report from these places you're well aware that they want to upsell you. This is because it takes a lot of money to keep all of that data stored, and they are trying to milk it for all it's worth. All of these free credit checking and free credit score checking sites are likely owned or affiliated with the major credit bureaus, so it's little wonder that they act so similarly.
Final Free Score 360 Review
Free Score 360 delivers on its promise of giving you your 3 reports, but for something with the name FREE in the title, it's odd that they need your credit card. They say that the $1 is refundable, but they don't come right out and tell you about the Score Sense service that you'll be signed up for inadvertently. If you want your credit monitored, then you'll probably like this, but if all your after is a score check than this represents some added hassle.
However, there's no way that you'll get your credit score with absolutely zero hassle, because the major credit bureaus have it under lock and key, and invented it so that they could monetize something else besides your report. So it's really about picking the best of a bad bunch and Free Score 360 ranks up there with the best of the worst.
Official Website: Free Score 360
What do you think? Does Free Score 360 work or not?