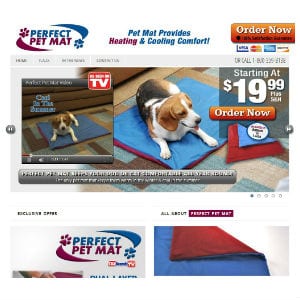 The Perfect Pet Mat is designed to be used year round by your pet, because one side helps them stay cool, and the other side helps them stay warm. Seems like it is a pretty good idea and has features that ordinary pet blankets and mats don't have. But how well does it really work?
The Claim
The major claim of the Perfect Pet Mat, aside from its title claiming to be the perfect mat for your pet, is that no matter the season your pet will enjoy sitting on this. They say it gives them more warmth when they need it during the fall and winter months, and a cooling effect during the spring and summer when things start to heat up. They say it can be a way for your pet to
The Hype
They try to appeal to pet owners by saying that you wouldn't allow a child to go cold in the winter or swelter in the summer heat, so why would you do that to your pet. By making the correlation between pets and humans they are connecting to those pet owners that treat their pet like a family member. Pet owners want what's best for their pets, and if you can establish that a product will give them a better experience you've done the job and can expect orders to come in.
The Cost
The Perfect Pet Mat comes out to $28 when you factor in shipping. They are including a $15 credit towards your next TV Product purchase, so you can get another product for roughly half price if you've had your eye on something else. The mat that is shown in the promo video may seem a bit smaller for larger breeds of dogs, but no worries because for $10 more you can get the large size and have a mat bigger enough to accommodate larger dogs.
The Commitment
All that would really be required on your part is to make sure to flip the mat over when the weather changes. You might also want to put the mat in places where you want your pet to sit, like off of furniture and in their designated area. It may take some training for them to figure out that the mat helps them stay cool or warm, but once they figure it out they should end up preferring the mat to other seating options.
Evaluation
You can put the Perfect Pet Mat in your pet's bed as a liner so they will stay cozy and warm when it's chilly, or nice and cool when it's hot. They are taking technology that's been around for many years now and applying it to this pet mat. There has been thermo bags available at several grocery stores nationwide that are able to keep your roasted chicken hot, or your gallon of ice cream cold. Basically what they've done here is lined one side of this mat with a heat reflective surface that radiates the warmth back to your pet. The other side uses a cooling gel that transfers your pet's warmth and disperses it across the pad. It's a pretty smart idea, and one that's sure to work as shown.
When you consider that you can easily spend far more on a pet mat or a pet bed, this starts to make more and more sense. You can even help salvage a pet bed that you bought that your pet didn't really like by sticking this mat in there and showing them that it's now nice and warm or nice and cool. The fact that the outer cover is removable and washable is a big feature that can't be overlooked. This means that you can wash and dry it, put it back on and it's like a brand new mat.
Final Perfect Pet Mat Review
The Perfect Pet Mat is getting our Thumbs Up rating, as it's a great idea for almost any home in almost any part of the country. In almost every geographic location the weather isn't perfect all year round, so pets need some help to keep cool during the warmer months, and stay warm during the colder months. Sure, they have a coat of fur or hair but they could use a bit of help at times, and what pet doesn't like being as toasty as can be. In the summer they shed as much hair as they can, but it still doesn't seem like enough and you can bet they'd prefer a cool spot to sit.
Our Recommendation
This is a pretty good offer and it's priced well. If you return it you'll get the bulk of your purchase price returned to you, so it's not too high risk to try it out and see how your pet responds to it.
What do you think? Does the Perfect Pet Mat work or not?