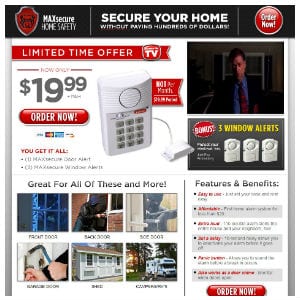 Max Secure is a home alarm system that says you can avoid the monthly fees that come with a professionally installed system, and get a similar level of protection for you home. But how well can a $30 home alarm system really work?
Overview
We'd all love to feel more safe and secure in our own homes, and there are a few different home alarm systems on the market that promise they'll be able to sound the alarm and alert you to potential intruders so that you and your family won't have to worry as much. Home alarm system can be pretty expensive, and may involve buying a lot of equipment upfront, paying a recurring monthly fee to keep it armed, or both. But really there needs to be an option for affordable home security, since it shouldn't be a privilege that only the upper crust deserves.
The Claim
The makers of Max Secure say that their alarm produces a 110 decibel piercing alarm that should alert everyone in your home, as well as the adjacent homes so everyone will know something is up. That's a level that is comparable to most security systems out there, but keep in mind that if your alarm gets tripped you'll still need to be the one to call 911 if needed because monitoring is not included.
The Hype
The hype here comes from comparing this to a professional alarm system that comes with 24/7 monitoring, like LifeShield or ADT. Even Comcast is trying to get into the home monitoring game by offering it as part of their Xfinity service.
The Cost
The cost of Max Secure is one of its major selling points, and they say for $30, which includes shipping, you'll get an alarm system that will product a door and three windows with no need to pay monthly costs for the service it provides.
The Commitment
Since you aren't signed on to an annual contract or required to pay a monthly fee to keep the service going, there's really not much of a commitment involved on your part. It will be up to you to install this successfully and get it to work, but after it's in place it should be easy to maintain. You just have to remember to set the alarm before you leave and before you to go bed, but you'd have that same duty no matter which alarm system you go with.
Evaluation
When considering which home alarm system to go with, you have to know all of your different options, and not just think that your only choice is Max Secure. If you just need one door monitored you might be better served with something like the Hangman Alarm. If you want more of a whole house system you may want to look into a product like Simplisafe which also doesn't have a monthly fee, but has a larger upfront price.
Your alarm system of course needs to address the front door situation, and should have a monitor in place that detects when your door has been opened while your alarm is on. Windows also need to be monitored so that you don't have any unauthorized entries. Aside from that your home should be pretty secure, as those are the two most common entry points for burglars and intruders.
Simplisafe: A similar product, but more expensive:

They give you three window monitors, so you can place them at strategic potential entry points into your home. That way if the window ends up getting opened when it isn't supposed to, it will trip the alarm. This comes with a system where you have to enter your alarm code, much like an alarm system that you'd pay for monthly. The one thing it doesn't provide is monthly monitoring, but this is just not a possibility for home alarm DIY kits, and if you want that you're going to have to pony up the dough each month.
One system that is relatively new to the marketplace is the one by Xfinity, through Comcast. They let you monitor your home while you're away, and they also have professional monitoring service, and give you all the equipment for free when you sign on. While it does represent more money, it also has more features, and is definitely worth checking into if this unit doesn't work out for you.
Final Max Secure Review
Max Secure is getting out Solid Try rating if you have a smaller home or an apartment. It should work to give you an early warning if someone is trying to enter your home. It could represent a low cost way to get your home secured, and it provides a similar function of an actual home alarm system that is professionally installed. This can be used in many different scenarios, so it is up to your imagination and your specific needs on how you'll use this.
Our Recommendation
This is recommended for a trial run because it just makes sense at this price point to try it out and see if it meets your needs. If it doesn't quite work the way you need it to, you can return it for a refund within 30 days and you're out the $10 shipping plus return costs. That's not very much to potentially free yourself from having to pay a monthly ongoing fee, or paying a higher upfront cost of a pricier home alarm system.
What do you think? Does Max Secure work or not?