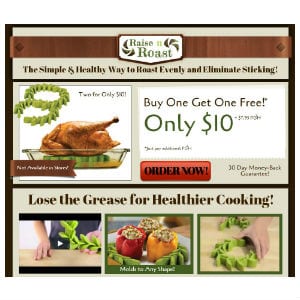 The Raise N Roast is a flexible insert that you can use in roasting pans to keep your food elevated and prevent it from sticking to the bottom of the pan. But does the really work, and what sort of benefits does it provide to simply roasting as you normally do?
Overview
Roasting meats and vegetables is a long-standing way of cooking food, and while it may have its disadvantages it's been a way of cooking for several years and it doesn't look like anything is going to come buy in the near future to make it obsolete. But maybe there's a way to tweak it just a bit so that you can get all of the benefits without suffering from the drawbacks.
The Claim
That's what the makers of the Raise N Roast are hoping to accomplish, and they claim that their flexible silicon insert can take your ordinary roasting pan and make it extraordinary. They say that it is make out of high heat resistant silicon, and that you can bend it and flex it to just where you want it. This allows you to use it for such things as a whole roast chicken to helping to stand up stuffed peppers and other oven-roasted goodies.
The Hype
The hype is that most people will not need a product like this, so it is up to the manufacturer to create that need by showing enough benefits to using it that it becomes clear you just can't live without it anymore. They pretty much just show the product in action, and how how you'd use it, and show how flexible it is. It's up to you to see the value in raising up your food so that it cooks on a sort of platform, up and out of the oily runoff.
The Cost
The Raise N Roast is sold for $26 and they send you two of them. It is unclear why you would need a second one, and having to eat the 2nd $8 shipping charge is a bit much since one of these should be all you need to get most jobs done.
The Commitment
It shouldn't take too long at all to put this where you need it before you start the roasting process. From there it remains a pretty hassle free product because it is dishwasher safe, so you don't have to worry about trying to clean between each leaf, you just pop it in the dishwasher and it's ready to go for next time.
Evaluation
The bendable vine shape of the Raise N Roast might look a bit odd at first, but it quickly becomes clear that there are a few advantages to this. First, you can bend it to fit just about any sized roasting pan you can imagine, and any shape too. You can also curl it and bend it so you can house all sorts of foods, not just whole chickens. The nice part about using this is obviously that your roast does not sit in all of the fat that trickles out of it during the cooking process.
While products like the George Foreman grill have figured out a way to keep foods free of the fat by having it all trickle into the drip pan, there isn't really anything that is out there that helps you use your current roasting pan in a way to reduce how much fat and grease your food is sitting in. By elevating your food out of all of that grease, it's inherently lower in fat, but at the same time it might not be as moist because it's not sitting in the juices either. You'll have to do some trial and error to see what the best way is to cook this and have it come out right.
Final Raise N Roast Review
The Raise N Roast is getting our Solid Try rating, as it's a pretty smart idea, and they've done a good job with the design process to bring a unique and functional product to the market. We don't really like that they send you two of them, but it might come in handy during the holidays when you've got a lot of things that need to go into the oven all at once.
Our Recommendation
Buddy up with a friend on this one and split the cost in half. That way you each get one for $13 and everyone can be happy with that. At that price point this is a great product and something that you'd get a lot of use out of it you cook a lot of roast foods in the oven. If you like the results you get with this you might even find yourself roasting foods more often, a healthier alternative to frying them or eating out.
What do you think? Does Raise N Roast work or not?