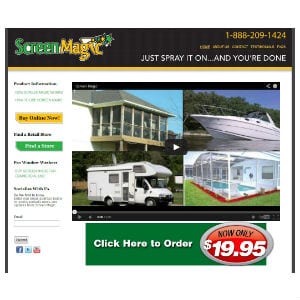 Screen Magic is a sprayable screen cleaner that says it can save you from the drudgery of cleaning off your window screens, just by spraying it on. But can this really work as good as a thorough scrubbing?
Overview
If you spend any time cleaning your windows you owe it to yourself to keep the screens clean as well, because it doesn't make sense to have clean windows behind dirty screens. But the screens are typically harder to wash, without such a good payoff in appearance. Many times you can clean a screen and it doesn't look drastically different than when you started. But this screen cleaner is supposed to make it so they look as good as new, without a lot of effort on your part.
The Claim
The makers of Screen Magic say that you'll be able to simply spray it on and walk away. They boldly state that you don't have to rinse this off with water after spraying it on. They also say you don't have to lift a finger to scrub it, and that your screens will end up looking like new when you finish. Not only that, but they say that it repels dust, so it will increase the time in between treatments. They say you'll only have to apply the treatment every six months to have screens that look like new all year long.
They say that it's also a way to treat your screens with UV inhibitors so that your screens won't fade over time, and will look better longer. They say when you spray it on it won't leave any streaks behind, and that you're only taking about a minute per screen to use this. They say you don't have to take the screens down in order to spray them, meaning you only make one trip up the ladder to spray them, and one trip down. On top of all of that they say that you will be shining up the frame at the same time.
The Hype
The hype here is that they have to get you to want to clean your screens, when most of us are content to just let them ride, or spray them off with a hose and call it a done job. They've got to sell you on the idea that you should take your screen down, spray them with this, and then put them back up. Or just leave them in place and spray them right where they are.
The Cost
You get a bottle of Screen Magic for $28 but they don't specify which size it is. It may seem a bit pricey for a cleaning solution, but considering you only have to use it twice a year it's not too bad.
The Commitment
Your lack of involvement is a major selling factor for Screen Magic. They show a side by side comparison of two people cleaning a window screen. One person is shown using a lot of energy and elbow grease to get the screen clean, while the other one is shown simply spraying it down and waiting until it's done its job.
Evaluation
Screen Magic definitely addresses a pretty common problem, and chances are there are millions of homes across the USA that could stand to have their window screens cleaned. They sell their product for commercial use as well, so window washers are able to buy this in bulk in a concentrated form that they can dilute and use as needed.
The appeal of being able to use this just twice a year is too big to pass up. Compared to having to clean your screens more often than that, and having to take them off the windows to clean them properly, this is a much better choice, and we were unable to find anything that offers a similar benefit at a similar price point.
Final Screen Magic Review
Screen Magic is getting our Thumbs Up rating due to the large amount of positive feedback it's received in relation to how well it works once you get it home and start using it on your screens. Usually we try to find a comparable product that does as good of a job. There are a few screen cleaning options for you to consider, such as the ScreenKleen, which takes a different approach and gets pretty good reviews. But overall we weren't able to find any cleaner where you just spray and the job's done.
Our Recommendation
This is a product that will definitely make life easier for you if you regularly clean your screens, and also if you rarely if ever clean your screens. That should apply to a lot of different people, and so it's likely that they will be able to stay in business quite a long time riding on the success of this nearly effortless screen cleaner.
What do you think? Does Screen Magic work or not?