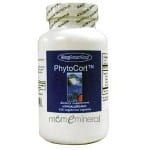 No one doubts that not being able to breathe can be a scary time, but can something like Phytocort offer any help? The manufacturers hope that you'll think so, but we're here to size it up and see if it is something you should swallow or not.
Overview
Phytocort is made by a company called Nutricology. Nutricology makes plenty of other health related products using herbal ingredients. They say that they have been around for 30 years and that they maintain high quality control standards in all of their products.
It is also distributed and labelled by a company called Allergy Research Group. This raises a red flag as it seems like they are intentionally trying to sound official, while not being so at all.
The Claim
Phytocort claims to use a combination of four different natural ingredients in order to treat conditions such as asthma and other breathing troubles.
These four ingredients are reishi, shrubby sophora, Chinese licorice, and noni. While it's true that these are natural ingredients, this does not mean that they are innately safe. The site cites a double-blind study that tested against a placebo that showed these four ingredients, when combined, lead to reduced reactions from asthma and allergy sufferers.
At first glance this may seem like Phytocort is a winner, but a deeper analysis shows that this study doesn't quite relate to the product directly.
The Hype
There isn't a lot of hype on Phytocort yet, as they don't appear to be spending a ton of money on advertising and promotion for this product. Basically, these companies have established themselves as purveyors of all-natural and herbal remedies, but they are trying to give it as much of a chance as possible by making it sound medically based.
The Cost
Phytocort costs over $40 for a one month supply. If you follow their protocol your first bottle will not last the entire month because you are required to take more of the pills at the beginning than you will later on.
The Commitment
The makers of Phytocort recommend taking it in larger doses at first so that you can get a good amount of the ingredients into your system, and then you can start a maintenance phase.
Evaluation
The studies that were referred to in which the ingredients that are included in Phytocort were shown to provide relief to allergy and asthmatic symptoms were not done on Phytocort itself.
This is the same as citing a report that says that bananas, apples, pears, and grapefruit all mixed together gives you energy and then making a product with these four fruits and then saying "Look! our product has been clinically tested." This is not true at all, because no one has analyzed whether you have the right mix in your product or not. There is no guarantee that you are following the same protocol that they did in the study, so it is not right to use this as proof that your product works.
A Proprietary Blend
It is important to reiterate that the study they are mentioning was not done on Phytocort directly. Phytocort just happens to be a product that contains the same four ingredients that were mentioned in the study. Therefore, it should not be assumed that the product will have the same effect as the study showed.
Many drug and herbal manufacturers out there use the term "proprietary blend" as a way of making a product sound like it has some secret mix that no other product has. In actuality this just means that the company owns the rights to this specific mixture. It doesn't mean that this mixture of ingredients is any better or any worse than another product with the same or similar ingredients.
A Note on "All Natural"
Products that use all natural ingredients pretty much start off with two strikes against them. They are totally unregulated and consumers think that just because the ingredients are all natural that they are safe. You can still have adverse reactions and side effects from large concentrations of herbs and plant products that aren't normally introduced to the body.
Another red flag for Phytocort is their one-size-fits-all dosing instructions. They don't provide any sort of calculations for different body sizes, or for men and women. Since lung size will vary from person to person, especially for a six foot, three hundred pound man, and a five foot, one hundred pound woman, there's just not enough medical basis to say that everyone should take the same amount no matter what.
Final Phytocort Review
It is unlikely that Phytocort provides any results, although some people have claimed to use it and have noticed that their condition has improved. The manufacturers state that you should take it under the supervision of your physician, but it will probably be hard to find a doctor that recommends it. If you do, make sure they take into consideration your size and weight and help you determine how much you should take, and for how long.
Our Recommendation
Take a pass on Phytocort. There's no saying what these herbal ingredients are doing to your body, especially since they suggest that you load up on them during the first phase before you can get to a maintenance phase. Although asthma and allergies that constrict your breathing can be scary, it's important not to jeopardize your overall health. The desire may be strong to get off of prescription drugs, but don't fall victim to products like Phytocort.
What do you think? Does Phytocort work or not?