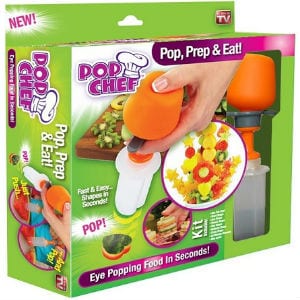 Pop Chef is marketed as a way to make fruit arrangements and festive gifts out of fruits, vegetables, and cookies, all with a simple cutter that uses a popper to pop the food out. But can it really work as well as it's shown to on TV?
Overview
This is one of those products that looks too good to pass up once you see it. Anything that combines food and fun is sure to be a hit with those that love to gobble up any kitchen gadget that makes it onto the airwaves.
The Claim
The makers of Pop Chef say that it's easy to make fun and unique snacks quickly using their kit. They say it can handle foods that are 2 inches thick, but they also say in the instructions that you should try to cut the foods so that they're only one inch thick to avoid them getting stuck.
The Hype
The infomercial for this shows plenty of different ways for how to use it, but there's nothing to guarantee that you'll actually end up using it for all the different functions they show. This is one of those instances where the thought of what a product can do is more fun than actually trying to accomplish what it is supposedly capable of doing.
The Cost
The Pop Chef totals $22 and it includes everything you'd need in order to make fruit arrangements, cookies, and gifts, at least in theory. The way they have it set up is that it's $10 for the base unit plus $6 shipping, and then they have an expansion pack for special occasions that tacks on an additional $6 in shipping.
It's covered by a 30 day money back guarantee, but the unfortunate part is you'd only get back $10 of the $22 you pay out. So really the guarantee isn't worth much, since you'd also be responsible for return shipping costs, so even to try it out you'd be paying $12 plus whatever it costs to ship it back just to get $10 credited back to your account.
The Commitment
In order to feel like you've gotten your money's worth you'd have to use this quite a bit, and make the sort of edible arrangements they say you can make for a fraction of the cost of what it takes to buy them pre-made. It's important to understand that this will still require a fair amount of commitment in the form of shopping for all of the ingredients, fresh fruit can be expensive, and you'll have to prepare all of the foods before using the cutter and popper. It can be quite a production to make just one arrangement.
Evaluation
The Pop Chef may look like a unique invention at first glance, but really it's a matter of applying a blower bulb at the end of a shape cutter so that it can force air into it and pop the pieces of fruit out. Undoubtedly there will be pieces that get stuck and they've included a piece to help get them out, and they also say you can use the blunt end of one of the skewers to get it out. In order for it to work as effortlessly as they show you'd want to make sure to keep the thickness of the fruits and veggies to one inch or thinner so it pops out just like it's depicted.
While the idea of having great looking fruit arrangements might sound enticing, the reality is that this is likely to be one of those TV products that end up collecting dust in the junk drawer. In order to make a colorful and diverse arrangement like the ones you see in the ad, you'll need to buy a fair amount of fruit and prep everything even before you're able to use this. For most this will be far from quick and more of a hassle than it's worth. While it can be fun to make these creations to bring to an office party of family gathering, using it on a regular basis would be a hassle.
Final Pop Chef Review
The Pop Chef is getting our Risky Try rating. It likely will work, but the question is whether it will work as well as it is shown to in the accompanying infomercial, and whether it is constructed well enough to last long enough to make it a worthwhile purchase. It could have earned a higher rating from us by having more positive feedback available, or having a more comprehensive return policy.
We'd like to see the pricing structure on this one be more consumer friendly, such as charging $16 for the unit and $6 for shipping so that you'd get a larger amount back in the case of a return. As it stands there isn't much incentive for the company to create a product that is worth keeping, as they're making money no matter what.
Our Recommendation
If this really got you interested in making the sort of edible arrangements that they show in the commercial, and you don't mind that you might actually end up paying over $12 even if you return the unit, then it's worth trying out. The system comes with instructions on how to use it properly, and a few different recipes to give you ideas for what to make with it. Overall, it doesn't seem like a bad deal, but the company is putting all of the risk on you, so you have to be content with assuming it.
What do you think? Does Pop Chef work or not?