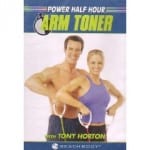 You might be familiar with Tony Horton, the host of Power Half Hour, if you tried other BeachBody systems like P90X or the 10 Minute Trainer series. This time he is promoting a product that promises to work your entire body in a series of videos, each lasting just 30 minutes long.
Overview
Not everyone can agree on how long a workout should be, with some health gurus saying you just need 20 minutes, and others saying you need 40 minutes or longer. In the grand scheme of things it doesn't matter how long you go, just as long as you get up and get moving. When looking at the different products that Tony Horton hosts, each has its own distinct timeframe. For example, he goes as low as 10 minutes with The 10 Minute Trainer, but can go for 40 minutes or more when he hosts P90X.
He seems to have found a happy medium with the Power Half Hour and this seems to be the Goldilocks theory of being just the right amount of time.
The Claim
They say that you won't believe just how quickly 30 minutes goes by with the Power Half Hour. With the fun, fast, and effective routines they have, the time just flies by. From personal experience I can say that Tony Horton is a fun host, making corny jokes but also speaking to you like a person and not just someone that is out of shape.
Another claim they make is that their Power Shaping technique is what provides the real magic. What they do is make sure to keep your heart rate up with cardio, but also you get sculpting exercises as well so it's really a two-edged sword. Many competing products only do one or the other, so you end up having to work out even more to get the same or similar results.
With this, it tones muscles in an efficient and effective manner, but it also keeps you motivated so that you stay with it. Another feature is that you can personalize it and customize it to your needs. This is because they've broken it down into five segments, each targeting a different area of the body. It seems to be geared more towards women and the problem areas they have.
One of their bigger claims is that you can see results after just 6 workouts.
The Hype
Most BeachBody products come with some form of hype, but there's not so much with Power Half Hour. They don't make a lot of outlandish claims like losing a certain amount of pounds in a certain number of days. It seems quite reasonable that you would be able to see results with just six workouts, especially if you did them back to back over six days and followed a proper nutrition program like the one included with the system.
The Cost
Even though they say it's a $150 value, it only costs $50 shipped to your door. They break it up into two payments so your first payment is $30 and next month's payment is just $20. Not a bad price for a complete system that you can easily follow and see results from.
The Commitment
Although the claim is that you just have to work out 30 minutes per day, the additional commitment comes from following the nutrition guide that is included in the program. This is where many people will falter because it's easier to do the workouts and just eat whatever you want. It gets harder when you do more than one thing at one time, so one strategy would be to do one first and then do the other. For example, start eating healthier until it seems easy, and then start working out, or vice versa.
Evaluation
The system they've developed and put together is high-quality and well thought out, much like many of the BeachBody systems. They targeted five areas that most people can agree are important for both looks and health.
Ab Burner – No workout system would be complete without targeting the core and midsection. Good looking abs are a crowdpleaser and this would get your core burning.
Arm Toner – Michelle Obama gets most of the attention placed onto her arms, so it's no surprise that they've included an arm section so you don't get that dreaded bat wing look.
Bun Shaper – Most women want a perfectly shaped derrière, so a lot of the products these days target this area, which is one of the hardest to work.
Thigh Trimmer – Slimming down the size of the thighs is high up on the list of things to do for many women, and this workout seems like it would be just the thing to work.
Power Stretch – What's great about this system is that it also includes an entire 30 minutes of just stretching, so you get long sleek muscles and not bulky muscles from toning.
They also include a nutrition guide so you are not left in the dark as to what you should be eating while following the Power Half Hour system. They also give you a tracking chart that covers your first 30 days, and a tracking calendar to help you stay motivated, see how far you've come, and see what you have left to complete.
Final Power Half Hour Review
There's no reason in the world why Power Half Hour wouldn't work, as long as you work it. Tony Horton is a great host that keeps you motivated and also shows you the proper techniques to do the exercises he uses to get you the body you want.
Our Recommendation
If you've never tried a BeachBody product before, we generally recommend them, and this is a great place to start because it's not as extreme as P90X or Insanity, but it will definitely get you moving and show you results in the areas that you're most interested in.
Official Website: Power Half Hour
What do you think? Does Power Half Hour work or not?