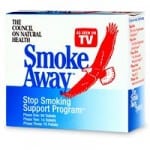 Smoke Away is one of the leading smoking cessation products on the market, with a unique approach. Quitting smoking can be one of the hardest things in the world to do. So much so that some companies will ask their CEOs whether or not they've ever quit smoking as a way to judge their level of willpower. It's hard to evaluate the different products out there and decide which one works, and we're here to help.
Overview
Quitting smoking can also be one of the most healthiest things you can do for yourself, and those that love you. Studies have shown that by quitting, your lungs will get a chance to heal themselves the longer you stay smoke-free. This is motivation enough to quit. If it were set up so that it didn't make a difference if you quit or not, you might as well smoke your whole life. But since you get a second chance by quitting it makes all the sense in the world to throw yourself into it.
The Claim
The makers of Smoke Away make some claims, but many of them are not very extreme and are rather understated. Some of the bigger ones are that it is America's number one choice. Many companies will claim this but it is hard to figure out what they base it on. In this case, it's pretty clear that they're referencing the number of units sold because they say they have sold millions of kits.
They also say that they have been in business online, and their products have been in use, for over 10 years. That's some pretty good longevity for a product of this nature. The logic is if it didn't work, word would get out and sales would dry up causing the company to go bust.
One of their more interesting claims is that there is no nicotine or other toxins used in the product so you are not solving the problem with another problem. They go on to state that their lab has been FDA approved, adding credibility to their product and showing that they're serious about what they do.
Their low-budget promo:

The Cost
They make the point to reference that their product is less than $100, and this is one of it's selling features. When compared to other smoking cessation products this will either seem expensive or cheap depending on which route you're considering going. The actual retail price is just $60 if you don't want the bells and whistles. If you include some extra vitamins and some aromatherapy to help you along you're looking at $86, although these are before shipping charges of $10.
They include a 30 day money back guarantee so you don't have to worry about getting scammed out of your money, which is always a nice feeling.
The Commitment
Choosing to quit smoking requires a lot of commitment on your part, and trying to find a product to help is a good step in that direction. Maybe you tried to go cold turkey, or to wean yourself off on your own, but recognizing that you need help is a good thing. Putting some money into your efforts will also solidify your commitment to stopping smoking.
Evaluation
This is a multi-faceted system including pills, homeopathic remedies, audio CD, and a booklet. Many competing products rely simply on one aspect, either a pill, a gum, a tincture, or lozenges. It isn't very often that you see a complete kit that includes things like a motivational CD, and reading material as part of the program.
But when you're quitting smoking it's not just a physical addiction, but a psychological one as well. It's nice to know that they've included motivational products in the form of audios and literature so that you can have a positive voice in your head during the toughest times, allowing you to stay focused.
Another thing we like about Smoke Away is that it's made in America, and has been for over a decade. We also like that they include a guarantee so you can return the product if it turns out that it doesn't work for you. Of course you don't get your shipping and handling back, but that's just standard practice for any online company.
Final Smoke Away Review
There's no reason to believe that Smoke Away doesn't work, because it includes all of the things necessary for success. It has an herbal-based remedy as its main ingredient but also includes homeopathic remedies to fill in during the times when your symptoms seem overwhelming. Also when you need some encouragement, they have included that as well in the form of an audio CD and a book that will help you reaffirm your commitment to quitting.
Our Recommendation
Definitely give Smoke Away a try if you're serious about quitting smoking. They designed and developed a comprehensive program that has many satisfied users over a long history. No other company can say this about their smoking cessation product.
What do you think? Does Smoke Away work or not?