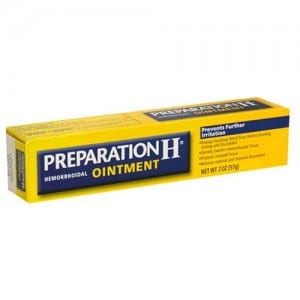 Having hemorrhoids is no picnic, and products like Preparation H are available over the counter to provide quick relief. But is treating the symptoms all you need to do to get rid of hemorrhoids, and are there other, more effective ways of going about it? Should you use products like Preparation H to calm down the symptoms, and if so, are they effective?
Overview
Preparation H originally started off as a lotion to help relieve people of a sunburn. It was then discovered that it worked well for hemorrhoids, and the rest is history. Now it has branched out the product line and offers an array of products all designed to help hemorrhoid sufferers feel better.
The Claim
Since Preparation H is made by Pfizer, they are very careful about making claims about what their product can do. They basically state that it is designed for the treatment of the symptoms that accompany a hemorrhoid condition, including the burning, itching, and swelling. The good news is that Pfizer wouldn't put out a product that wasn't effective, because they're heavily regulated, so you know that you're going to get some sort of relief by using their product, and that the science behind it will be there.
The Hype
The hype is that Preparation H has been around for several decades, and has become part of the mainstream as one of only a few products to treat hemorrhoids. If you ask most people what Preparation H is, they know what it's for.
The Cost
There are so many different products in the Preparation H range. They vary accordingly, but can usually be found for between $20 and $30. Here is the Preparation H product page on Amazon, for the best price and selection.
The Commitment
You only need to use Preparation H as needed, whenever you need it. It is not a regular regimen, like using it every day twice a day. It's meant to be used whenever there is a flare up and the symptoms become unbearable. Just be sure to follow the recommendations on the label of whichever product you go with and follow their advice on how many times per day, and how many consecutive days you should use it.
Evaluation
Preparation H has a virtual army of different product types, each with their own unique way of being applied or administered, and each treating a specific symptom more than the others.
Ointment – Many people complain about being sick of dealing with ointments, because it just makes a mess of things. It may sooth the itching and burning but it creates a new problem by causing too much slickness down there, and making you fidget just as much. This is the original product type that Preparation H came out as, and it's why they had to make other products to appease the complaints people have with it.
Cream – Creams are typically better received because they have the ability to stay where you put them, rather than going all over the place. Hemorrhoids are usually localized to one specific area of pain and discomfort, so when you apply the cream you want it to stay where you put it. However, both ointments and creams both get points taken away for ease of use, because the location of hemorrhoids makes it hard to see what you're doing, and where you're applying them.
Suppositories – This is specifically intended to treat both internal and external hemorrhoids. There's usually not a way around treating internal hemorrhoids without having to stick something up there to treat them. Most products designed to treat external hemorrhoids will say that you can't use them internally. Internal hemorrhoids have a knack for hurting even more than
Cooling Gel – If your bottom feels like it's on fire, you probably just want something to put out the flames. Nothing sounds like it would do this better than a cooling gel. The aloe in it will help soothe the burning sensation, and the fact that it's a gel means that it will be thick like an ointment, but still watery enough to cover the surrounding area.
Medicated Wipes – Similar to the Tucks Medicated Pads, these are meant to be an easy way to apply relief right to where it hurts. It's as easy and natural as using a piece of toilet paper, but it is saturated with a fast-acting medication to cool the burn, and soothe the itch.
Anti-Itch – If it's the itching that's driving you mad, you should go with this special cream that has added hydrocortisone to it to reduce the inflammation and desire to scratch. Most hemorrhoid sufferers claim that it's not so much the pain that gets to the brain, but the irresistible feeling have needing to scratch down there.
Final Preparation H Review
Preparation H products are all well reviewed, and can safely be used to effectively treat the symptoms of hemorrhoids. Choose which one sounds like the easiest to apply, and is geared towards what is bothering you the most and you should have a good experience.
Like with most products backed by a major pharmaceutical company like Pfizer, they aren't treating the underlying cause of your hemorrhoids, but are instead just treating the symptoms. This is a big problem within the medical community of symptom treating. The drug companies love it, because it keeps you coming back for more product to keep treating the same recurring symptoms. That's why you should be a smart consumer and look for ways to cure your hemorrhoids, using products like Preparation H to bring relief of your symptoms while your other methods are taking time to work.
Our Recommendation
Preparation H is nice to have handy when things get unbearable and you just need some quick but temporary relief. You also need to be actively involved in finding out why it is you ended up with hemorrhoids, and how you can prevent getting them again once they're gone. You should also be taking additional action to try to get rid of your hemorrhoids and not just dulling down the symptoms again and again.

What do you think? Does Preparation H work or not?