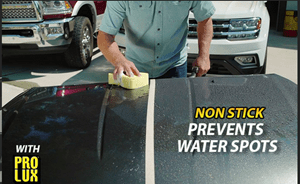 Taking pride in your vehicle's exterior is important. Finding a product like Prolux Protective and Restoring Car and Truck wash could be what you are looking for.
Overview
ProLux is an all in one acrylic auto wash. It is an auto wash solution that does it all.
The Claim
The claim to ProLux is once you use it, you will never have to wax your vehicle again. The auto wash product cleans, renews, protects, and shines. It is made with a non-stick formula. The acrylic technology used to manufacture this product fills in minor imperfections and fractures.
The Hype
The hype about Prolux is that it is a one-step solution for your vehicle's exterior. This saves a lot of time and intense manual labor. You only need to apply one product for the results of many purposes. After using this product, water repels right off and is streak and spot free.
The Cost
The cost of ProLux is $19.99. It is a limited time double offer. Buy one and get the 2nd for just paying an additional fee. It comes with a 90 money back guarantee.
The Commitment
The commitment to using ProLux is taking the time to apply the product correctly. Using this auto wash product regularly can prevent acid rain damage and sun fade.
Evaluation
The ProLux auto wash product is a great idea. It is convenient to wash your vehicle with one solution while attaining other benefits. You can clean all surfaces, including tires, wheels, and glass. It renews clear coats with each wash. It adds a high gloss finish without waxing. Dirt does not stick to your vehicle, as it has a non-stick formula. This product will help protect your vehicle against bird droppings, tar, tree sap, and more. When using on your tires, it eliminates brake dust. Finding a good auto wash product can save you a lot of money. No need to frequent, costly car wash facilities. Enjoy the convenience of washing your vehicle right at home, without waiting in lengthy line ups. Soft touch car washes can also scratch your vehicle if there is debris build up.
Final Prolux Review
We are going to give ProLux auto wash a thumbs up. The auto wash solution is very easy to use. You simply apply it like you would any other car wash solution. Then rinse it with running water. Then allow it to dry. The fact that this product also has the ability to fill in minor fractures and imperfections is an added bonus.
We would recommend using the ProLux product. Regular use will help to maintain the ultimate finish you are looking for. It will add extra protection to keep your vehicle looking shiny and new. It also protects from dust and pollen sticking to your vehicle. Rain will just disappear from your windshield.
Our Recommendation
When it comes to your vehicle there are others types of protection you may need as well so check out CarShield.
What do you think? Does Prolux work or not?