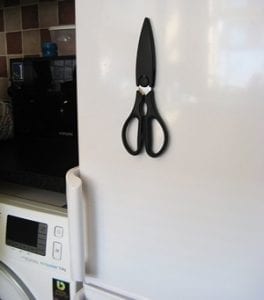 You probably have a lot of kitchen gadgets and kitchen tools that you don't use, but there are a few that are really important to have and one of these is a good pair of shears or scissors. One that you may want to consider investing in is the Quelkit Kitchen Shears.
Overview
These Quelkit Kitchen Shears are well made with sharp stainless steel blades and large handles that have soft grip components built into them.
The Claim
The promoters of the Quelkit Kitchen Shears are claiming that these scissors can be used not only for any kitchen task but other tasks as well that require the use of scissors. In the kitchen they are great for cutting up meat and veggies. The promoters also indicate that these scissors are made from anti-corrosion steel which is what you really need in the kitchen setting.
The Hype
The hype for the Quelkit Kitchen Shears revolves several of its benefits and features. One of course is the quality but the other is that it also has bottle opener built into the unit as well as it's a nutcracker.
The Cost
You can expect to pay $11.97 for the Quelkit Kitchen Shears which really is an amazing price.
The Commitment
The commitment you are going to have to make is to look after the Quekit Kitchen Shears properly. What this means is not just tossing them in a drawer without protecting the blades. This is easy though because these shears come with a magnetic sheath that not only allows you to protect the blades but to easily attach them to a magnetic component in your kitchen so they will always be easy to find. Don't forget that when you are using these scissors for food preparation that they need to be properly cleaned as you don't want cross contamination for example if you were using them to cut chicken parts.
Evaluation
Everything about the Quekit Kitchen Shears sounds really good, but what is even better is out of 354 reviews it has received a 4.5 star rating. That is pretty impressive for a pair of shears that are so reasonably priced.
Final Quelkit Kitchen Shears Review
We are going to give the Quekit Kitchen Shears a thumbs up rating. It is hard to find good shears and when they are backed up with positive feedback and such a great price then they certainly appear to be a good buy. Although they say that they can be used for everything at this price you may want to buy an extra pair. Tis way you have one pair for the kitchen and another pair for general use by other family members.
Our Recommendation
Not only do you need a good pair of kitchen sheers like the Quelkit Kitchen Sheers you also need a good set of knives so you may want to check out the Miracle Blades.
What do you think? Does Quelkit Kitchen Shears work or not?