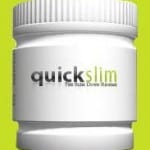 Weight loss systems are always coming out on the market because of the huge demand for quick weight loss solutions, and Quick Slim is just one of the many supplements that claim to be effective in reducing weight without too much of an effort. You simply need to take the supplements and your fat and weight will be gone naturally. Can it really be this easy? Why isn't everyone taking it then?
Overview
Quick Slim made sure that they have a catchy name, as do most products of this nature. Getting your brand name stuck in people heads is crucial. Who wouldn't want to get fit and slim quickly? By taking these nutritious supplements just once a day, women are supposed to lose their excess weight effectively in just a matter of weeks. The product is only suggested for use by women.
The Claim
Quick Slim claims that it is the "healthiest diet pill on the planet." You will lose 2 pounds per week and continuing with the regimen will allow you to lose 2 pounds regularly every week. The supplement carries different herbs as ingredients and included in the list are aloe vera for cleansing, goji berries for proper blood circulation, grape seed extracts for inflammation, spirulina for energy and green tea for digestion.
The Hype
Weight loss fanatics are always curious about new products that can provide an easy solution to their weight loss problems. Because of this, Quick Slim was received with gusto and everyone wanted to see if it really works. And because this system of weight loss simply calls for the daily intake of the supplement, consumers thought that it wouldn't hurt to give it a try.
The Cost
A bottle of Quick Slim costs around $60. This bottle contains 30 capsules so it can last you for a month. You are supposed to take one capsule per day before eating your breakfast.
If you compare this product with other vitamin supplements that contain the same ingredients, you will find that Quick Slim is quite pricey and it's not even approved by the FDA. This may be a ploy by the company, as there is an understanding that if you price a product highly people will transfer value to it, rather than the other way around.
Commitment
In order to make this weight loss supplement work, you need to take one capsule before breakfast every day. It is also advised that you drink a full glass of water when taking this pill. The supplement is supposed to provide you with all the vitamins and minerals that your body needs and it will suppress your appetite too. This way, you will not feel hungry and crave for food that can make you gain weight.
This is quite the commitment, and should not be overlooked or thought of us an easy way to weight loss.
Evaluation
This is not only an unrealistic product, but it's quite dangerous too. Cutting on food is a type of crash dieting and it will make your body feel weak. Your body's natural resistance to disease will begin to fail, making you susceptible to all types of diseases and you will probably gain even more weight once you stop taking the pills.
There is no substantial evidence that the product really works either. But the company is not giving away any trial samples and there's no money back guarantee to back up their claim.
Does Quick Slim Really Work?
No, the product as a whole is a failure. It's supposed to assist in reducing your weight but that comes naturally if you are not eating any food. And although it contains natural antioxidants that can get rid of toxins inside the body, you can get the same effect from over-the-counter drugs that are FDA-approved. And for the price of $60 per month, which by the way doesn't include shipping and handling, you will only be engaging in a crash diet program that can't really be good for your body and overall health for the long term.
Our Recommendation
We are not recommending the Quick Slim system of weight loss. It's expensive, ineffective, and dangerous to your health. What we do recommend is eating healthy and balanced meals that are mostly comprised of fruits and vegetables. You can also eat meat occasionally as well as grains as these are sources of protein and energy. Just make sure that you don't make fatty and high-cholesterol foods your main courses several days a week.
We highly recommend exercising too. Exercising will make you more fit and energetic while also contributing to the natural burning of fats from your body. In a nutshell, we can say that losing weight is just a matter of self discipline, right diet, and exercise. And you don't need those crash diet systems that will only ruin your body's natural operation.
What do you think? Does Quick Slim really work?