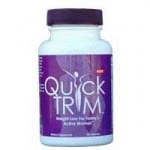 Could Quick Trim be the fat-busting system that actually works? New weight loss systems are always introduced to the market because of the high demand for these types of programs. And if a product or program is endorsed by well-known celebrities, the system becomes more noticeable and believable.
This is exactly the advertising strategy that went into the Quick Trim weight loss system and management. It is endorsed by the gorgeous-looking Kardashian sisters which makes the method seem like it could really work and makes it more appealing to women who are problematic with their weight.
Overview
The Quick Trim weight loss system is comprised of many different products. The Burn and Cleanse supplements come with exercise and diet programs that you should incorporate into your daily routine.
The Extreme Burn caplets, on the other hand, can be taken once a day and it performs 3 times better than the regular Burn and Cleanse supplements. These supplements also have the effect of decreasing your cravings for food.
The Fast Cleanse supplements are simply dietary supplements and Celluslim is a gel that can be applied on the body to get rid of cellulite. Aside from these main products, there are also protein shakes and berry juices you can buy.
The Claim
All the Quick Trim products are designed to detoxify the body while also aiding in weight loss. The fast cleansing pills can supposedly get rid of bloating around the stomach area so as to make you look fit and trim. These products claim that your body can be fully detoxified in just 2 days and in 2 weeks' time you would have burned enough fats that will be noticeable enough. The protein shakes can even replace your regular meals. This will boost your metabolism so as to make you lose weight faster.
The Hype
The Quick Trim Weight Loss program can be considered as one of those quick fix methods in dieting. Undoubtedly, people would want to engage in a program that promises results in as fast as 2 weeks. Avid weight loss fanatics are drawn to such programs without even considering the possible side effects that these types of weight loss systems may bring, or realizing that they're unsustainable in the long term.
The Cost
Quick Trim supplements cost around $50 per bottle, while the cellulite gel is priced at about $40. The protein shakes and berry juices can be purchased for about $20 per pack. If you decide on buying all the Quick Trim products, you will need to spend about a hundred dollars per month on this weight loss system alone.
The Commitment
In order to make the program work, you need to follow the diet plan and exercise program that are included in the Quick Trim system of weight loss. Not doing so and simply relying on the supplements, power shakes, and juices will not make the method very effective. Therefore, you need discipline to make this system work.
Evaluation
While the Quick Trim method of weight loss may seem to be effective, it doesn't look very healthy. The system calls for a great reduction in the amount of grain and protein that you consume and this will strip your body of energy and stamina. All day long you will feel tired and sluggish as your body is not receiving the proper amount of nutrients that it needs. That's the problem with quick weight loss plans, the method usually calls for starvation in order to work.
Does Quick Trim Really Work?
This expensive diet program could actually work. But it doesn't necessarily mean that it's healthy. In fact, a lot of consumers have reported experiencing nausea and dizziness when taking the supplements, especially the triple strength Extreme Burn supplements. Quick Trim can be compared to other products that can suppress the appetite, and you will therefore feel full even if you have barely eaten anything. This can lead to malnutrition which is not a healthy way of losing weight.
Our Recommendation
We do not recommend the Quick Trim products. Aside from being too expensive, there are too many choices of products to choose from which can get rather confusing. Surely, you cannot rely on the supplements and protein shakes alone as your daily source of nutrition. You can adapt a system of exercise routine instead and just cut back on your consumption of high carb foods and sweets to maintain a healthy weight.
If you want to lose weight the healthy way, take a look at the weight loss programs that do work here.
What Do You Think? Does Quick Trim Really Work?