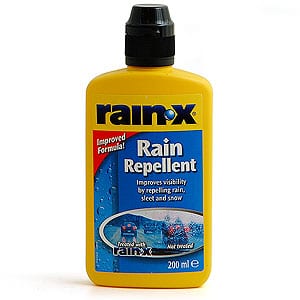 Rain-X makes an assortment of products all with one aim in mind: to keep your windshield more clear during a storm and other elements. They've been around for quite some time now, which leads one to believe their products work as advertised. But we took a closer look to see how well they really work.
Overview
Driving through the rain is one of the more dangerous times to be driving, so it makes sense to try to take steps to make it as safe as possible. When the three really starts to follow, visibility can get down to just above zero, even with your windshield wipers turned to the highest setting. Things can become exacerbated if you are behind a big truck, as their tires will kick additional water right into your field of vision, even more so when they hit a big puddle. And since you also have to worry about things like hydroplaning, it's essential to see where you're going.
The Claim
Rain-X claims that their products will help keep your windshield clear against the elements. Each individual product has its own specialty as to what it is supposed to do, and how it goes about doing it.
The Hype
They've been around for quite some time now, and it's not as if they have a monopoly on things, but there really isn't too much to compare it to, making it the default choice when you want to protect your windshield from ran. They are also trying to expand their product line into car wax and bug removers, and headlight cleaners, but they are mostly known for their rain repelling products, and that's mostly what we're focusing on here.
The Cost
Rain-X products are reasonably priced across the board, no matter if you are getting replacement wiper blades, or a glass treatment that will help the rain repel from your windshield. Compared to other brands of windshield wipers, these prices are very competitive. And they've pretty much cornered the market on repelling rain by treating your windshield, so there isn't much to compare prices to, but at roughly $10 a bottle, it's definitely providing value for the dollar.
The Commitment
It does take a bit of time and effort to treat your windshield if you're using a rain repelling treatment, and if you have a rather large windshield. And of course we're all familiar with the trickery of trying to put on windshield wipers. But once you're finished with the process everything will be in place and you you can now reap the benefits of your work. When the rain started to fall, you'll immediately see the results as the rain sloughs off the windshield with ease.
Evaluation
It seems that the efficacy of Rain-X products varies by the type of product, and even by which one you go with. They seem to have gotten the glass treatments down pretty well, and we can personally attest to them working remarkably well. After using it first hand it was remarkable to see water bead up and roll away, so much so that we didn't even need to use the windshield wipers until it really started to rain hard. And even then it kept the windshield relatively clear in between wipes.
Their wipers seem to be more hit or miss, and this is because they come in so many different types and lengths for the different makes and models of cars. Be sure to check the individual reviews on the wipers that fit your car, or simply stick with the glass treatment solutions they provide, either applied directly to your windshield, or added to your wiper fluid. Their headlight restoration kit gets excellent reviews, and is another step you can take to make sure that you're seeing as much of the road as possible. When it's raining at night you'll be doubly prepared with a treated windshield and clear headlight covers in place.
Final Rain-X Review
Overall Rain-X products are getting our Thumbs Up rating, but you'll want to be sure to double check on the specific product you have in mind. We can absolutely attest to the fact that when properly applied the rain repellent treatment does work, and provides safer driving conditions when it's raining, both when it's just drizzling and when it's a downpour.
Our Recommendation
A clean windshield is paramount to safe driving, and you don't have to sacrifice one just because Mother Nature is having a bad day. By taking proactive measures to make your windshield more clean and clear even when the weather has turned nasty, you'll thank yourself later and wonder why you didn't do something sooner. This is especially true if you live in an area that gets its share of rain, sleet, and snow.
What do you think? Does Rain-X work or not?