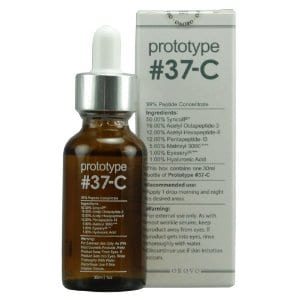 Prototype 37-C has been getting a lot of people asking if it really works, which is not uncommon with today's anti-aging products. It's because most of us have started to see the signs of aging and it isn't pretty. We'd do just about anything to stumble on to something that works well and lives up to its claims. That's why we take extra care to go over the claims and see what real users are saying about the results they're getting.
Overview
Anti-aging is big business right now, and will only continue to grow as the American baby boomer population continues getting on in years. This means there will be more products being introduced to the market, and it also means that there will be the opportunity for unscrupulous businesses to swoop in and fleece unsuspecting shoppers. Because the desire is so high to have a product that can actually work, there are many people that are willing to let their guard down and set reason aside in order to give products a chance.
The Claim
The biggest claim made by the makers of Prototype 37-C is on its purity. They say that it is almost entirely peptides. This would seemingly make it more effective than other products that use fillers and dilute the amount of peptides they contain. And since peptides are an ingredient that is often found in anti-aging products, it's only natural that one came along claiming to be nearly entirely peptides. But is this enough to create a successful product, or do peptides work their best when they are combined with other active ingredients?
The Hype
Aside from the scientific sounding name, which leads one to believe there were about 36 other attempts before they discovered this one, the hype comes from it being a product that promises to turn back time as far as your looks go. These types of products have an avid market of buyers ready to be wooed by the claims. It's also marketed in a brown dropper bottle that looks like something you'd see from a 1940 sci-fi movie in a scientists laboratory. There's also been some shady promotional tactics cited by users, so you really have to question what you read about it.
The Cost
The cost of a bottle of Prototype 37-C is $150 from their main site, or you can catch somewhat of a deal on Amazon for $130. Since you're only applying it a drop at a time one thought is that a little goes a long way, and the small bottle will still last you for a few months at least, bringing the per month cost back into to realm of being somewhat competitive. But on their main site they say that a bottle is only supposed to last you for one month, making this one of the most expensive anti-aging serums we've seen on the market.
The Commitment
They say that all you have to do is put a drop on your areas of concern once in the morning and again at night. This is easy enough to follow, as most of us have a morning and nightly regimen that we follow when we wake up and before going to bed. Compared to multi-step products where you have to use several different products in conjunction with each other, many will find it relatively easy to use just one and be done in a few seconds. The length of time you'll have to stick with this would depend on how deep your wrinkles are, and how well you remember to use it.
Evaluation
Some have taken alarm at how Prototype 37-C so closely resembles water in that it is clear, just as viscous, and without a scent of any kind. Users have said that when they apply it it's as if they are simply dabbing water onto their face. Since there's no regulating authority that vouches for these products, the FDA won't get involved with natural products and remedies, there's nothing to stop someone from claiming a product contains this or that, when in actuality it contains neither. But no one has yet to conduct an analysis of what it actually contains, so the jury is still out.
The Plot Thickens
There's a bit of drama behind the product that can't be ignored. It seems that disgruntled users have done their homework over the years and have tracked down the likely owner of this product to a Chris Kuchin who they've identified as a one-time college student at BYU. They were able to trace a few domain name purchases to him, and it seems he was using those domains to host sites that would put competing products in a negative light. It's a cutthroat industry for sure, and no holds are barred, but it makes you wonder about the efficacy of this product if the owner needs to resort to bashing other products.
Final Prototype 37-C Review
We're giving Prototype 37-C the Thumbs Down rating as there's too much evidence pointing against it working, and not enough legitimate reason to try it. They say that they have a 90 day guarantee, and that they won't accept returns before 30 days because they want you to give it a fair trial. But from what our research has determined there's not a lot of confidence that they would honor the refund request, and we were unable to locate anyone that had returned a product successfully. The overall verdict is that there are better products out there for you to try, at lower price points.
Our Recommendation
Taking a level-headed approach to fighting the signs of aging is the best way to go. Set reasonable expectations and try not to get lured in by products that make big claims but don't offer anything in the way of studies or proof that they really work. We've done a lot of research into the anti-aging market, and so far we've found some winners such as Firma-Face XR and NightSkin and we'll continue to bring them to you as we discover them.
What do you think? Does Prototype 37-C work or not?