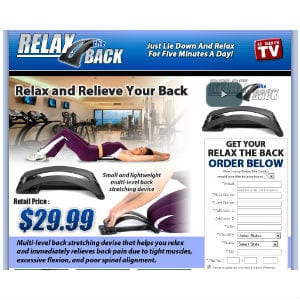 Relax the Back is a simple platform that you lie down on in order to decompress your spine and ease back pain. It's supposed to help you relax and to align the spine, but how well does it work in real life.
Overview
Back pain is a pretty common problem, and our modern society doesn't help too much. Many of us are hunched over a computer all day at work, or in the car commuting, which can cause undue pressure on the spine, neck, and shoulders and get us out of alignment. Perhaps you've noticed that the posture you take when seated at your workplace causes your back to have a very unnatural curve to it, and that this is the source of your back pain.
The Claim
The makers of Relax the Back say that it works to correct the curve in the spine and that it works in only a few minutes a day. They say that it's an all-in-one unit that adjusts quickly so that you can change the levels of the arch so you can continue to keep correcting your spine until it reaches optimal curvature levels.
The Hype
Since so many people suffer from a sore back there is a large market of interested consumers waiting for the next big thing in back pain relief. A device like this that requires very little on the part of the user is sure to get some interested eyeballs, and create a stir from people wondering if it could actually work.
The Cost
The Relax the Back unit is $30 and doesn't list a shipping price. When you compare this to other products of a similar nature, namely the BackBridge, you'll see that it is a third the price. Also, it's important to note that Amazon has the Back Magic Plus for less than $30 and is essentially the same product, if not the same exact product just under a different name.
If it can do what it says, it would be far cheaper than regular chiropractic visits, and would be a smaller piece of equipment than an inversion table or specialized office chair for back pain that can cost hundreds or even thousands of dollars.
The Commitment
All that they say is needed to experience relief is to lie down on it for 5 minutes, twice a day. Because of its low commitment level it should be relatively easy to stick to using it each day so that you can get gradual and lasting relief from back pain.
Evaluation
Relax the Back is also marketed under the name Back Magic and should not be confused with the line of franchises that offer specialty chairs and other back pain products called Relax the Back. These devices are also referred to as lumbar extenders and overall they get good ratings from users. It's easy to see that the shape of this device is such that it mimics the natural curve of the spine, and that by helping the spine back into this shape you are reeducating it on where it should be, and strengthening the surrounding muscles so that your posture should naturally improve over time.
If you have chronic back pain you might need to use something like this for a month or more before it starts having an effect. You may also want to use it for longer than the 5 minutes twice daily that they proclaim in their pitch. When you get up from using it, but sure to roll on your side first, and do not attempt to sit up from the arched position, as this can undo the progress you've made and cause a back spasm. Roll to your side and take a few deep breaths before sitting up fully.
There are ways to get lower back pain relief without having to buy products like this one. Consider the Egoscue Method which is all about performing a series of exercises designed to reintroduce motion into your daily life so that you can put the body back into alignment and be pain free.
Final Relax the Back Review
Overall, Relax the Back is getting our Solid Try rating because users say it works, and this sort of social proof coupled with chiropractors and physical therapists recommending similar products, it appears to be a winner. It's a solid concept and the fact that the unit is self-contained and easy to store when not in use is a big plus. At this price point there's simply no reason not to try it out if you're suffering from back pain and your job requires you to sit at a desk during the day.
Our Recommendation
Back pain should be treated with a holistic effort, including taking frequent breaks if sitting for long periods, strengthening your core muscles, losing weight if needed, and using products designed to elongate the spine and return it to its natural curve.
What do you think? Does Relax the Back work or not?