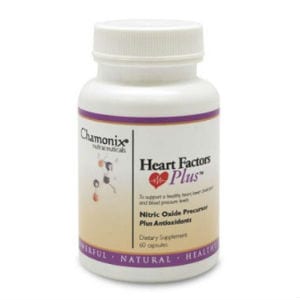 Heart Factors Plus is an Arginine supplement that is presented as a way to improve blood circulation and lower blood pressure. For those that are worried about heart disease due to risk factors or family history this would certainly pique their interest, but how well is it shown to work?
Overview
More and more health supplements are being sold through the TV, which raises a few concerns. Is the television the best place to get advice on what sort of supplements or medication you should be taking? Is there a one-size-fits-all supplement that everyone can benefit from? Should you start taking a heart supplement without consulting your doctor first? These are important questions that just aren't answered by a 30 second TV spot.
The Claim
The makers of Heart Factors Plus say that it can help keep your blood pressure in check, can improve the blood flow throughout the body, and can help with male sexual functioning. They bring up the different risk factors for heart disease, including being a smoker, not getting enough exercise, drinking too much alcohol, having high blood pressure, getting older, and having too much stress.
The Hype
This bills itself as a miracle amino acid, and anytime you paint a product as being a miracle of any sort you are dabbling in hype. When you are talking about heart health you are raising the stakes because this is one of the most vital organs, and keeping it beating steadily is priority one for many health conscious individuals. Combine the two and a miracle heart supplement is pretty hype-laden.
The Cost
The way you're billed for Heart Factors Plus is that they charge $129 set up as a buy two get the third one free. This breaks down to $43 a month. At this price point you have several different options to choose from, many lower-priced ones, as well as many that are the same price or a little higher. This means that you can be picky about whether or not you go with it. It also means that they'll need to justify a rather high price for a supplement, either with high quality ingredients or a proprietary mix that makes it hard to get elsewhere.
The Commitment
This is meant to be taken as a daily supplement, so you'll need to commit to taking it each day to get the best results. Many all-natural supplements are meant to be taken daily, and since this one is supposed to be used for better heart health it only makes sense that you'd be expected to take it daily. You should also commit to taking action on steps to improve your overall health, because it's all connected to your heart. This would include refraining from foods that are known artery cloggers, as well as getting more activity in your daily routine so you're less sedentary. You don't have to go to extremes, even small changes can make a big difference over time.
Evaluation
Heart Factors Plus uses Arginine as the main ingredient, and this isn't exactly a proprietary ingredient. You can find Arginine supplements at several health food stores and vitamin shops. There are some other ingredients included with this, some of which are rather interesting such as Chaste Tree Berry. They also have included green tea extract which will include antioxidants that are known to improve heart health not just in the short term but for the long term as well.
It's important to keep in mind that the studies they are citing and claims they are making are in reference to Arginine itself, not to Heart Factors Plus. Whether or not the amount of Arginine in Heart Factors Plus is the same dosage that is being used in the studies and research is not able to be determined. Also keep in mind that they have voluntarily retracted some of their earlier claims about how fast their supplement can work and what type of results it can provide.
Final Heart Factors Plus Review
Heart Factors Plus is getting our Try rating, but only if you've consulted with your doctor and they've determined that an Arginine supplement is the best course of action, and that the ingredients list of Heart Factors Plus meets their approval. It's good to take your heart health seriously, and want to do the best for yourself to prevent heart disease of all types, but you have to go about it the right way.
There's a 90 day money back guarantee on the product, subject to return shipping fees and a 9% restocking fee which should put it at around $10 if they are basing that off the purchase price without shipping and handling. So if you look at it from the company's point of view, even if everyone returned the product they'd still make around $20 per sale, which means they're profiting no matter what happens. We like to see a company that has a vested interest in creating a quality product and standing behind it enough to take a loss if it doesn't meet the consumer's needs.
Our Recommendation
Rather than trust your health to a supplement sold on TV, sit down with your doctor to find your specific needs and work out a daily nutritional and supplement plan with them. They'll likely recommend a lifestyle shift including dietary changes, more exercise, and supplements designed to lower your blood pressure and increase your blood flow. This is a long term plan for a lifetime of heart health, which is the proper way to think about taking care of your heart.
What do you think? Does Heart Factors Plus work or not?