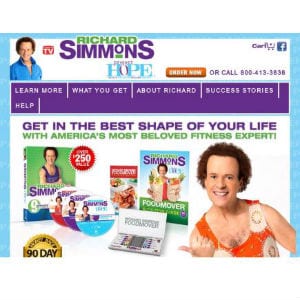 The Richard Simmons Project Hope fitness and diet program is the latest release from everybody's favorite fitness icon Richard Simmons. Well, maybe he's not everyone's favorite, but if you like him, you might like his new "project", but of course it has to actually work, so let's see.
Overview
With Richard Simmons you either love him or find him annoying, and for those that have been following his work for decades you'll know that he's always trying to put out programs that help you lose weight, but also have fun doing it. This is a combination that is not present on most fitness programs these days that focus on intensity and ultimate fitness, pushing you past your limits and being brutal on your body. The concept of having fun while getting in better shape seems almost ridiculous.
The Claim
The major claim of the Richard Simmons Project Hope system is that you can transform your body in 90 days. Many workout programs center around the 90 day time frame, as this is a time that you can wrap your head around, but also is enough to show major improvements and transformations.
The Hype
Richard Simmons has built a name for himself over the years, and he's now synonymous with fitness, healthy eating, and positivity. He is his own hype machine and he uses this to get you motivated and psyched up about what you're trying to achieve. You simply can't fake longevity, and he's withstood the test of time, earned many fans, and continues to release new products that are in line with his overall philosophy on health.
The Cost
The total cost of the Richard Simmons Project Hope package is $60, which they break up into two payments of $30. There's a whopping 90 day money back guarantee on this one, so you don't have to stress about liking it or not, or making your mind up quickly on whether you want to keep it, you have plenty of time for evaluation. In fact, the program itself is supposed to take 90 days, so in essence they are saying you can try out the entire program and if you don't get the results you want, you can return it for a refund.
The Commitment
Just like any fitness program you're going to have to commit to making changes in your life if you want to see results. Richard Simmons is notorious for helping people to start off slowly and stay positive, so he might be able to help you get past the hardest part, the start. The nice thing about the way he has this program set up is that it is broken up into thirds, so if you look at it like it's just three 30 day commitments rather than one big 90 day commitment, it might be easier still.
Evaluation
Richard Simmons Project Hope has some familiar elements to it, including the FoodMover, which is now in an electronic form. This is a way of tracking what you've eaten throughout the day, so you don't have to mentally remember, and so you can get an objective reading of where you're at. It's been around for several years, but this is the first time he's made it electronic. This is a major crux to the eating portion of the program, and while the device is not very sophisticated, it gets the job done.
As far as the fitness element goes, he's got it set up so that you're working out in three different phases for the three month period. This keeps things interesting so you don't get bored, and allows your body to get used to your new increased level of activity. By the third month you'll be doing cardio and toning exercises that just two months earlier you would never have thought you could be doing. All combined, there are a three sets of workouts plus a challenge for each month that pushes you a bit to see how far you can go. It's nice that he's broken the challenges up between balance, abs, and endurance, so by the time you make it out of this program you've got a well-balanced physique.
Final Richard Simmons Project Hope Review
Richard Simmons Project Hope is getting our Thumbs Up rating, as it combines many of his most successful concepts and packages them into one unit. The 90 day time period is something you'll have to commit to, and it's recommended to choose a 90 day block of time when you don't have any major incumbrances to starting or staying with it. Since you're covered by the guarantee, and the price point is far lower than other 90 day programs, there's really no reason not to try it out if you were on the fence.
Our Recommendation
Richard Simmons has proved time and again that he is able to help people lose weight, even when there's a lot of weight to lose. By focusing not only on the physical, but also your mental state, and getting you to have a positive attitude when perhaps you don't feel too optimistic about how things are going, he brings a unique system that you just can't find anywhere else. A lot of this is all about his personality, so if you gel with it, this is recommended, but if you don't, it might be better to go with a program with a different host.
What do you think? Does Richard Simmons Project Hope work or not?