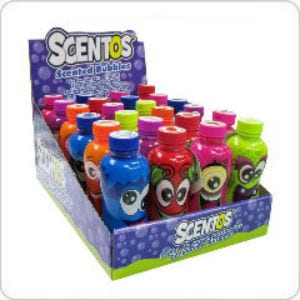 Scentos are a line-up of markers, pens, highlighters, dry erasers, paints, glues, stationery, and bubbles, all loaded with different scents and featuring silly character faces. They're pitched as a fun way to do art and crafts and other activities, but how well do they stand up to repeated use?
Overview
The idea of scented markers is nothing new, but these are supposed to smell really strongly, and even transfer their scent when you use them on paper. What's really on sale here is the novelty of the different characters being associated with each color and scent combination. They're trying to establish this as a collectible product, the same way that Beanie Babies were, or the way you have to catch all of the Pokemon characters.
The Claim
There aren't many overt claims made about Scentos products, other than they are scented and that they smell like different flavors. They don't make outlandish claims about how long the scent will last, like saying it will last forever, and they don't say anything about how long the pens and markers will last either. It's merely presented as a fun and collectible set of products that are colorful and zany and that you might enjoy having.
The Hype
The commercials for these add the hype, and they are infomercial style, so they make it seem really fun. If your kid ends up seeing one of the commercials they'll probably start bugging you for one, and maybe that's how you ended up on this page in the first place.
The Cost
The cost of Scentos varies depending on what you're considering. One way to get a sampling of products at a reasonable price is to get one of the Activity Sets. These include a mix of markers, pens, and glues as well as hundreds of activities that you can do with them. This goes for $13 and provides a nice introduction to their products at a reasonable price.
The Commitment
You'd use these the same way that you'd use any other pens, markers, or dry erasers, so there's really nothing extra that you have to do to enjoy these. Kids will most likely enjoy playing with these, and the idea of a scented product usually goes over well as an initial wow factor, but quickly fades into just another pen or marker.
Evaluation
What's interesting is the level of depth behind each product they offer. Rather than just release a product that didn't have any flair or personality, they've emblazoned a face to each one and given them a name. For example, their orange highlighter is not just an orange highlighter, its name is Fireball Orange, it's scent is orange, and it's color is orange. Sliding over to what would normally be a blue highlighter and you'll find that the name is Electric Jellyfish Blue with a blueberry scent and blue ink.
They do have some of the same products from line to line. If you look at the green scented marker or the green scented pen its name is Sour Puss Green Apple, and the smell is green apple with green ink. Each of the products is labeled with a series number, hinting at the possibility that they will keep releasing new characters with new scents and new names. They say these are collectible, and it may be fun to get all of the different scents and colors that they offer.
Getting one of their Activity Sets is the best way to go because it gives you a feel for the quality of the product, and it also includes tons of different activity ideas to keep kids busy for hours on end. This comes in handy if you have trouble coming up with things for them to do, or for long car rides and road trips.
If you are a parent or teacher it's a good idea to supervise children when they're using these products so they don't end up inhaling too many of the fumes. They're labeled as non-toxic, but it's not a good idea for kids to get into the habit of inhaling anything, with the rising number of students experimenting with huffing various chemicals such as paint and glues. You'll have to be especially careful with young children when they're using paint, bubbles, or glue because the scent might make them more likely to put it in their mouth and try out how it tastes.
Final Scentos Review
Overall, Scentos seems to perform well, and people seem pretty happy with their purchase. The quality of the pens and markers seems as good or better than what you'd typically find in an unscented variety in stores. As far as scented products go we haven't seen anything that quite measures up to these, or takes it as seriously. They only seem to be expanding their product line, which is typically a good sign that they're doing well and have many satisfied customers.
Our Recommendation
These can be a fun way to make arts and crafts more fun for students and children, but they should be supervised when using these. The added scent may or may not add to the activity, so it's always best to gauge their response and see if they are still enjoying using them. If they're getting bored with them and just sitting around sniffing them without coloring or doing arts and crafts, it might be time to swap them out for regular markers.
What do you think? Do Scentos work or not?