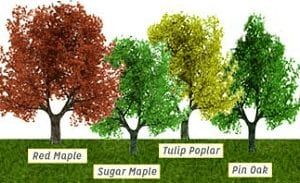 Now is the time to start thinking about your spring gardening even if it is still a bit early to start planting. Landscaping is not cheap and if you are thinking about adding some trees to your garden architecture then you will want some good bargains, but can you really get these through the mail by ordering the Shade Tree?
Overview
The Shade Tree is a selection of trees that you can order through the mail at a big savings. They arrive in size at approx. 2 to 5 feet so they are ready for planting. The primary offering is the red maple tree but you can get 3 other types of trees as a bonus.
The Claim
The Shade Tree is offered by the Gardeners Collection and they state that their trees are sturdy and fast growing. The promo states that the trees can really skyrocket up to 80 feet high.
The Hype
There is lots of hyper centering around the offering of these 4 trees. The hype is directed towards the nature lovers who want to provide a natural habitat for wildlife. Then the promoters focus on those who want to save money by having additional shade around their home environment. They even reach out to potential home sellers indicating how the end results of a beautiful landscape derived from these trees can boost your sale price.
The Cost
You are looking at paying about $10 for the one tree plus an extra $8. for shipping and handling. The cost doesn't stop there though, because you are going to be getting 3 additional trees as a bonus however you have to pay the shipping and handling on these, so your end cost is going to be around $42.
The Commitment
You know that these trees are not going to plant themselves, although it would be nice if they could. However, they are small enough that digging the hole and planting them is not going to be all that difficult. As with any outdoor garden item the work doesn't end with the planting. You are going to have to commit to giving your new trees the tender lover care they will demand through watering and pruning as they mature.
Evaluation
One of the concerns about ordering plants or trees via the mail is the condition they are going to arrive in. You are taking a risk when buying this type of item as they are in their first growth stages and can be fragile. Now we have written about other types of planting venues such as the Grow Up Garden which seems to work quite well through a mail order system, however the concept is different.
Final Shade Tree Review
While at first we were really drawn in by the beauty of these trees, we still had to be diligent in our review of behind the scenes credibility. The end result is our decision to award a risky try/buy rating for this product. While we would have loved to give it a go because the price for four trees is great, it still could mean you are not going to get a deal. We did a little checking on the Gardeners Collection who is the provider of these trees and found numerous complaints about the company itself. Now we always keep an open mind when it comes to online complaints for several reason. Sometimes false complaints are made by competitors hoping to hurt the company's credibility, or the products may have not been used correctly. In this case though because we are talking about trees there are so many things that can go wrong with them in their growing stage we had concerns about the complaints that evolved around similar products.
Our Recommendation
We recommend that you really do some further research into the Company providing the Shade Tree and draw your own conclusion as to whether you want to invest the money into this current offer in the hopes that your product is going to arrive alive and well.
What do you think? Does the Shade Tree work or not?