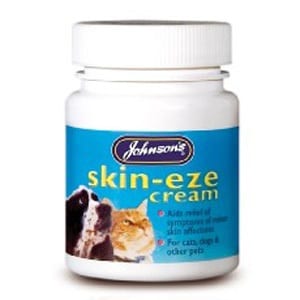 If your dog is suffering from allergic reactions of the skin Skin-Eze may be able to help. It's presented as a all-natural way to help your dog's allergy problems, but user feedback seems minimal, and there isn't much in the way of documentation that it works.
Overview
Dogs can be allergic to several things, just like us humans. Even though they've been domesticated for thousands of years, they still haven't fully adapted to life indoors, and can be susceptible to dust, mold, and even their dog food. It's important to get to the source of what is causing their reaction, and do your best to limit their exposure to the things that are triggering their allergies. That's a better system than trying to treat the symptoms.
The Claim
The makers of Skin-Eze claim that their mix of herbs and spices does the trick to get your dog's skin back to its naturally healthy state. They say that if your dog is having a reaction to a seasonal allergy you'll be able to just give it to them when they're at their worst, and if it's an all year allergy issue you can use the maintenance dosage regularly. They say that since it's not a drug you can give it to them as long as they need it, indefinitely and they won't build up a tolerance to it.
The Hype
If you're the owner of a dog that has skin allergies you are well aware of what a problem it can be and are likely tired of watching your furry friend suffer. No hype is really necessary for a product like this, other than stating what it can do and how it helps.
The Cost
They have Skin-Eze set up in small, medium, and large sizes based on your breed so you're getting enough of the product to cover them properly. The small version goes for $89, the medium for $106, and the large for $135. The price might seem high at first, but quickly appears reasonable if you've checked out competing dog allergy products. And if it stops your dog from scratching itself silly you might think it's well worth the price.
The Commitment
If you've tried several products for your dog's skin and haven't been able to find a solution, this could help ease your troubles if it makes it so you can stop looking and evaluating different options. We do recommend taking them in to find out what it causing the allergic reaction, and if you do decide to use this, bring it to the vet first to see if they think it's OK for your particular dog. There are either tablets or pills that are given to the dog, so it is easier than using shampoo or other topical solution.
Evaluation
The ingredients in Skin-Eze are all natural, and they say they're using human-grade herbs. The specific mix that they're using includes herbs that are used for specific purposes, like antifungal or antimicrobial properties. When used together they are supposed to leave your dogs skin free of the allergens, and hence free of the symptoms. Some users say that it's best to start with a product like Skin-Eze, and then follow it up with other products meant to help with dog allergies.
When it comes to your dog you don't want to treat them like a guinea pig and just start using product after product on them in hopes that it will work. Pet products are not subject to the same kind of standards that human products are, so you have to have a discerning eye and really evaluate whether you should be giving something to your dog or not. They say that Skineze is safe and all-natural, but use it sparingly at first to see how your dog reacts. You don't want to make the problem worse for them.
It would be nice if they had more third party reviews from owners that have tried it. This is because dog owners are typically some of the harshest critics when it comes to evaluating products for their pets, so you get the real 411 on a product. It's a bit odd that there isn't more in the way of feedback, not counting the testimonials at the official page which can pretty much be written off as best case scenario.
Final Skin-Eze Review
We're giving Skin-Eze the Solid Try rating, as it has been shown to be a help for some dogs, and certainly a better choice than some of the chemical-laden products out there designed to get them to stop itching and be at peace. The best success that was had with this is when it is used in conjunction with other products, so it may be a matter of finding the right mix of products that work synergistically for your dog's particular problem.
Our Recommendation
If your dog suffers from skin problems it's best to take a comprehensive approach rather than rely on one product in particular for them. Our recommendation is to have your dog tested to find out what they're allergic to, and then try to limit their exposure to it. That way you don't have to use a product like this, and you'll know exactly what is causing it. It may be a little harder at first because it will require a vet visit, but over the long run it will help them on a daily basis to live allergy free.
What do you think? Does Skin-Eze work or not?