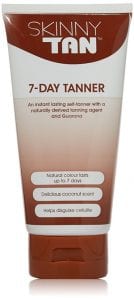 Since the age of time people have always loved getting out in the sunlight and getting a tan, but nowadays getting that bit of sunshine can be extremely detrimental to your health. Over the years, sun tanning technology has been introduced that helps deal with this problem. In the form of a large variety of self-tanning creams, sprays lotions and mousses. Ones that can be used to achieve your tan rather than be outside. Skinny Tan is one such product that is gaining great reviews and may be the answer for many who want that tanned look but don't want to risk being in the direct sunlight.
Overview
Skinny Tan is described as the first self-tanner that utilizes a combination of natural tanning ingredients. With naturally derived skin smoothing activities that allow you to get a well-even tan. Plus, at the same time reduce the visible appearance of cellulite. They have a wide range of products and the pigment is concentrated so a little of their product apparently goes a long way.
The Claim
Skinny Tan claims to be a natural self-tanner that applies to your skin even and streak free. No matter what your skin shade is, it self- adjusts to give you the best tanning shade possible. It has a very pleasant coconut smell to it as well and the product itself is made up of Eco-certified ingredients. It has no harsh chemicals and the derivative Guarana is known for its skin firming properties. It also helps to disguise cellulite as well.
The Hype
Skinny Tan was founded by entrepreneurs Kate Cotton and Louise Ferguson. Who were ironically on maternity leave when they came up with the brainstorm to create and easy-to-use sunless self-tanner that look identical to a real tan. After working on their formula in Australia and it was perfected they then appeared on Dragons' Den. Which is the UK equivalent of the Shark Tank. They were extremely well received and were able to secure the proper financing needed to launch their product which has been a great success so far.
The Cost
The products from Skinny Tan range in cost from $39.95for a 7 day tanner to $54.95 for a kit that includes both a tanner and a primer.
The Commitment
The commitment with Skinny Tan is that it will provide you with a well- oiled even tan that will be healthy for your skin. Plus, itwill look just as good as a real tan, without the harmful effects that can be caused to your skin from direct sunlight.
Evaluation
In the year 2016 in the United States alone over 76,000 new cases of Melanoma, which is a form of skin cancer. They were diagnosed and are a direct result of being in the sun too much and being exposed to harmful in UV rays. Skinny Tan has gotten great reviews and may be a great alternative for many people that want a good looking tan. But don't want to take the chance of having any skin problems down the road.
Final Skinny Tan Review
Although there been a few mixed reviews, for the most part, it seems Skinny Tan has been well received. Most people that have used this product vouch for it, and many of these individuals have tried numerous other products and would still recommend this as a great alternative to being outside.Anything that is going to be healthy for you and gets the results that you are looking for definitely gets our recommendation, and with Skinny Tan, properly applied, it seems you will get the results you are looking for at a great cost. We are prepared to give Skinny Tan a thumbs up.
Our Recommendation
As an alternative you may want to chedk out Jwoww.
What do you think? Does Skinny Tan work or not?