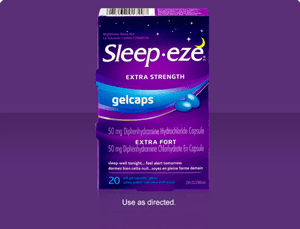 There are many different reasons why people can't sleep. At the same time there are plenty of different types of medication as well as other methods that one might use to help with this. One of these might be Sleep Eze.
Overview
Sleep Eze is an over the counter medication that can be used to help one fall asleep.
The Claim
The promoters of Sleep Eze claim that the product can be used on occasion when one is having difficulty falling asleep. They do not promote it for continuous use.
The Hype
The hype around Sleep Eze is basically the fact that it is an over the counter medication. It means one does not have to go to their doctor for a prescription.
The Cost
The cost for Sleep Eze will depend on where one purchases it. It available at many different department stores like Walmart for example.
The Commitment
Your commitment for using Sleep Eze will be for following the recommended dose and only taking it exactly as directed on the product label. Over using a product like Sleep Eze can lead to some problems. Also, it is your responsibility to read and understand the potential side effects.
Evaluation
We are well aware that there are times when individuals have difficulty falling asleep. This can be a real hassle because it makes one feel tired and lethargic the next day. It can also throw sleep patterns off. Often what happens if one doesn't sleep well one night they will have a nap the next day. This then interferes with the night's sleep for that night. Sleep Eze has the main ingredient of Diphenhydramine Hydrochloride. If you have ever taken a product like Benadryl then you may be familiar with this ingredient. Benadryl is commonly used for people that are having some type of allergic reaction.
Final Sleep Eze Review
We are prepared to give Sleep Eze a thumbs up, but with a lot of conditions. The first condition is that you are well aware of the potential side effects of Diphenhydramine Hydrochloride. Mostly it is the feeling of a hang over where one doesn't feel like they got enough sleep. It can make some people feel dizzy and affect their vision. It goes without saying that one should never drive a car or operate machinery after taking Sleep Eze or any other product that contains Diphenhydramine Hydrochloride. And not until all of these effects have completely worn off. Some people just decide to take a Benadryl when they are having problems sleeping, but the same cautions are applied to this. It is for occasional use only.
Our Recommendation
While Sleep Eze may be one solution for the occasional sleepless night there are other alternatives besides taking medication. For example the Aura Alarm Sleep Clock may be an alternative solution. Listening to music, and sleeping in a dark room may be some other solutions.
What do you think? Does Sleep Eze work or not?
[kkstarratings_custom_footer]